This
Instant Wheat Dosa recipe
, among many others, reminds me of my late Grandmom, Aatha to me. She was an expert at making these
crispy, lacy, tempered, instant wheat dosa
(or
Godhuma Dosa
as we call it) mainly because although it's an
Instant Dosa Recipe
, it requires more time to cook than regular dosas.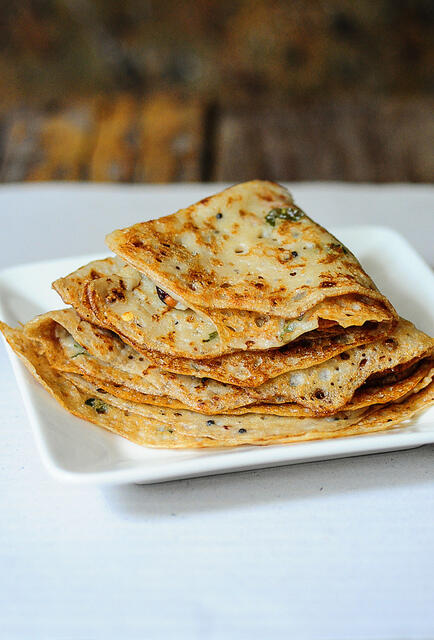 Her wheat dosa recipe only contains wheat flour that's diluted in water and then tempered with some spices and curry leaves. The spices add a great bite and flavour to the wheat dosa which already has a lovely aroma due to the wheat flour used. So, let's check out how to make easy and instant wheat dosa, shall we?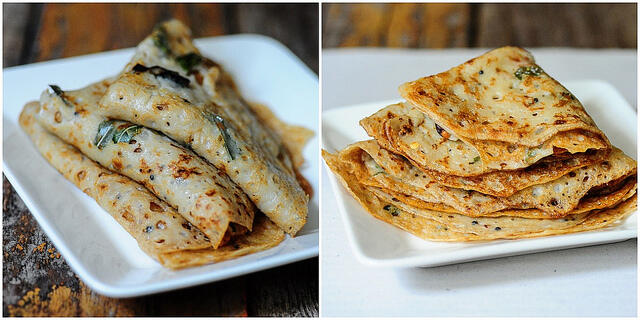 Instant Wheat Dosa Recipe-Godhuma Dosa Recipe
Preparation time: 5 minutes
Cooking time: 20 minutes
Makes ~ 10 wheat dosas
Recipe source: Aatha and Amma
Ingredients:
2 cups of wheat flour (atta or chapati flour)
4-5 cups of water
1 tsp of salt
2 tsp of oil
1/4 tsp of black mustard seeds
1/2 tsp of split urad dal (ulutham paruppu or uzhunnu parippu)
2-3 dry red chillies, cut into pieces
A few curry leaves, torn into pieces
3-4 shallots (chinna vengayam or ulli), minced
How to make Instant Wheat Dosa:
1. Mix the salt and the flour. Add water a little at a time and gently mix the batter until the consistency is thin and pourable. The consistency of wheat dosa batter should be much thinner than regular dosa batter. The wheat flour will tend to form lumps so be patient and keep mixing until you get a smooth batter.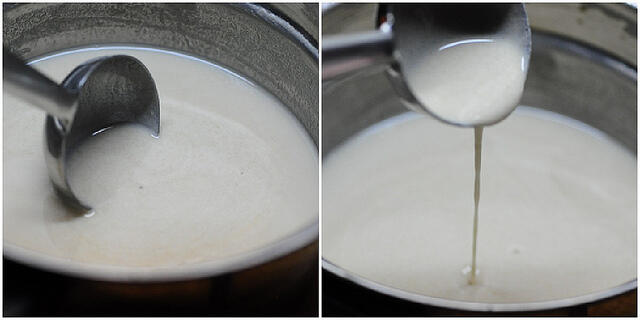 2. Heat the oil and add the mustard seeds. When they pop, add the urad dal and fry until it turns golden brown. Then add the red chillies and curry leaves and remove from fire. Dunk this into the wheat dosa batter and then add the minced shallots. Mix well.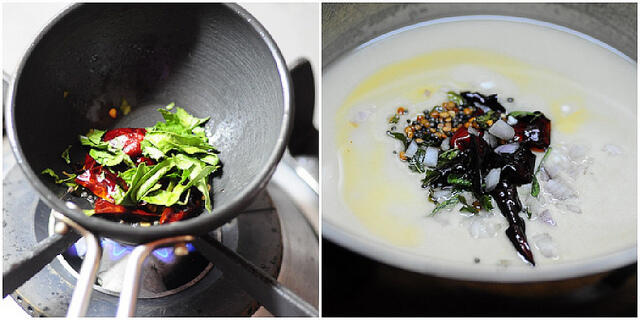 3. Heat your dosa tawa and using a large rounded ladle, start pouring the batter from the outside and keep pouring batter into a circle until it's filled. Don't worry if there are some holes in the dosa, that will crisp up nicely and add to the taste.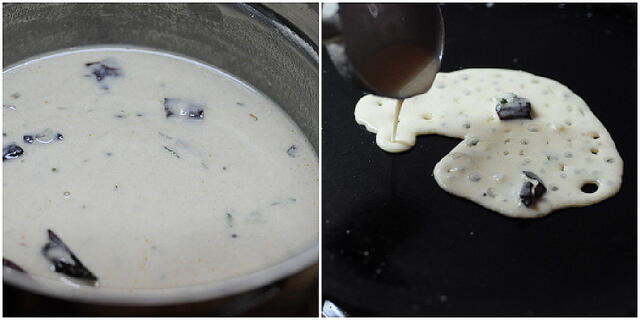 4. Keeping flame on medium-low, cook the dosa until the edges start to rise a bit. Pour a few drops of gingelly oil (nallennai) over the dosa and gently flip it over. The other side should be golden brown. Like I mentioned, godhuma dosa takes longer to cook than regular dosas so be patient.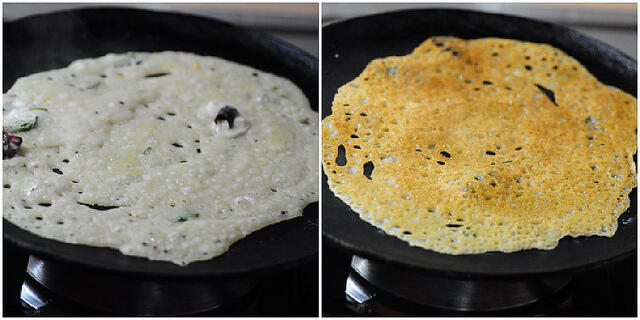 Continue to cook the rest of the wheat dosas. Amma serves this with a spicy red chutney that goes amazingly well with it I will share the recipe with you soon. Here is the spicy red chilli chutney recipe that goes well with wheat dosas.
Here are some side dish recipe ideas for Wheat Dosa:
Chuttaracha Chammanthi (Kerala-style red coconut chutney)
Tomato-Onion Chutney
Chow Chow Thogayal
Tiffin Sambar
Raw Mango Chutney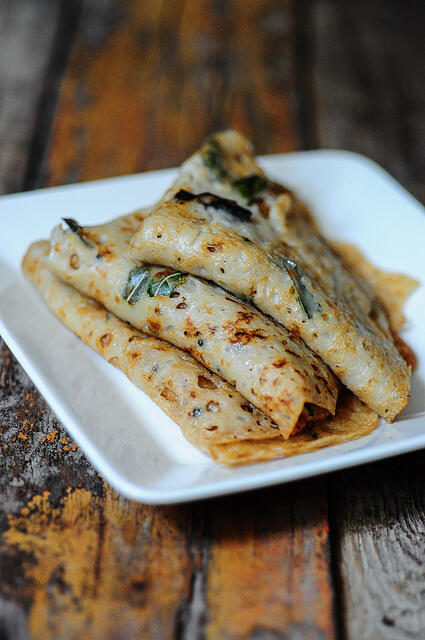 Notes:
– You can use regular chapati flour or atta to make wheat dosas. I have even used the 7-grain or multi grain atta for wheat dosa and they work just fine.
– The amount of water mentioned is just approximate. Add enough to make a loose batter. The looser the batter, the crisper your dosa and the longer it takes to cook.
– Wheat dosas keep really well and turn soft and spongy on cooling so it's a great instant dosa idea for your tiffin and lunch boxes.
– You can use minced onions if you don't have shallots in hand or if they are unavailable
– Here's a super quick video that shows how to pour the wheat dosa (same method as used for rava dosa).