My
eggless no-bake Mango Cheesecake recipe
has been received well by everyone. A lot of you tried it, loved it, and shared pictures with me. But one thing that a few people complained about was that the cheesecake recipe has gelatine in it and gelatine is not apt for vegetarians. So here's an eggless cheesecake that has crushed Oreos in it (yum?!) and no eggs or gelatine. Win? Win!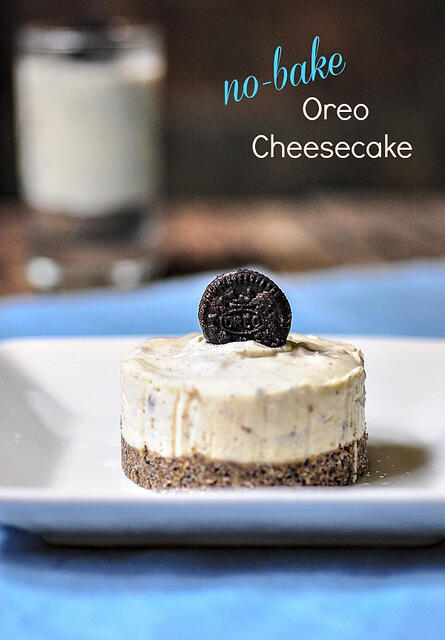 I'd been meaning to make an Orea cheesecake (also called Cookies and Cream cheesecake) for ages and wanted to experiment a bit with making a no-bake, eggless cheesecake with no gelatine and no agar agar either. This recipe right here? This is the answer. Deliciously creamy no-egg, no-bake Orea cheesecake that comes together in about 15 mins and all it needs is some chilling time in the refrigerator before serving.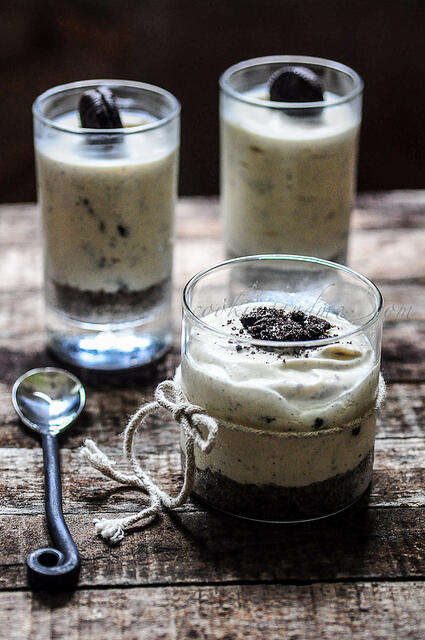 While serving cheesecake in glasses or jars is a great idea and pretty too, I wanted to get individual mini cheesecakes. I fished out a dessert ring I had bought a couple of years back and never used (picture below). That worked out perfect to get the cheesecake you see in the above picture. Erm… it's kinda lonely because I have only one dessert ring!
Eggless No-Bake Oreo Cheesecake Recipe
Preparation time: 15 minutes
Chilliing time: 5-6 hours
Serves 4-6
Recipe adapted from: Bakers Royale
Ingredients:
20 Oreo cookies
1 cup of cream cheese
2 tbsp of sour cream (optional)
1/3 cup of thick cream
1 tsp of lime juice
1/3 cup of sugar
1/2 tsp of vanilla extract
1/4 tsp of salt
2-3 tbsp of melted butter + more for greasing (if required)
How to make Oreo Cheesecake:
1. Blend 10 Oreo cookies and the melted butter into a fine-ish powder. Press this firmly into the base of your glass or cheesecake tin. Refrigerate until needed.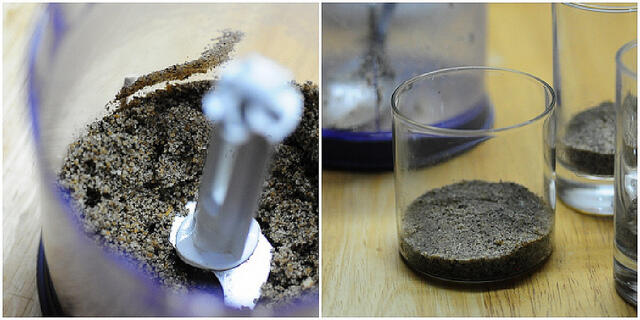 2. Using an electric beater, beat the cream until soft peaks form. No need to beat it stiff.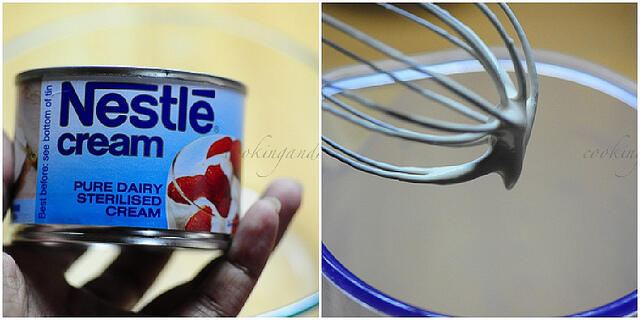 3. In another bowl. beat the cream cheese, sour cream (if using), lime juice, sugar, salt, and vanilla together until soft and fluffy (about 3 mins). Add the cream to this mixture and beat again to combine.
4. Crush the remaining Oreo cookies coarsely and fold into the cream cheese mixture. Gently layer on top of the biscuit base that you refrigerated. Some of the cream will stick to the sides of the glass but no worries. Once done filling up to the level you like, wipe the edges clean with the tip of a paper napkin.
Refrigerate for at least 5-6 hours and serve chilled. Since we haven't added any thickening agens to the cream cheese, the cheesecake will start melting soon after being taken out. That's fine, it's still delicious!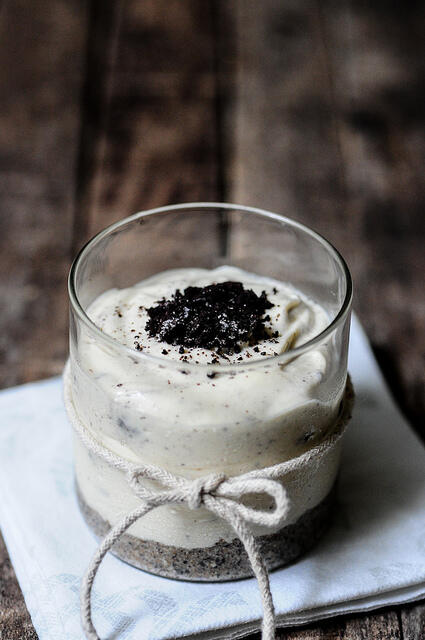 How to make individual cheesecakes using a dessert ring:
Grease the inside of the dessert ring generously with butter. This is important! Place it firmly on a plate and add the biscuit base, press firmly, and refrigerate.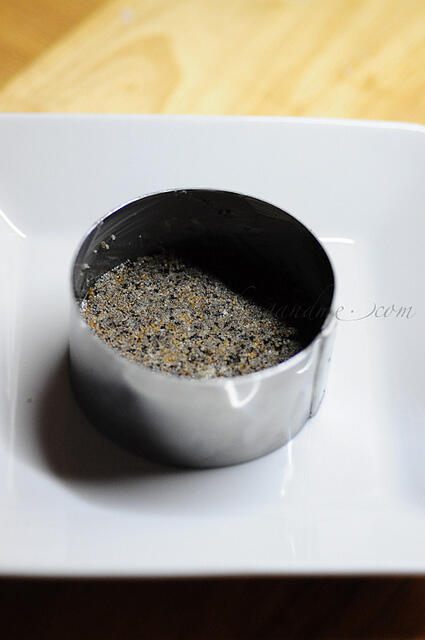 Pile on the filling when it's ready. Level it out as much as possible. That's all there is to it, really. I kept this in the freezer for a bit before moving it down to the refrigerator.
Garnish with crushed Oreos or mini Oreos before serving.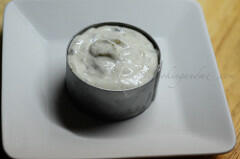 Remove the ring and voila! Perfectly shaped mini cheesecakes! You can also use a generously greased springform pan for a large, single cheesecake which you can slice and serve.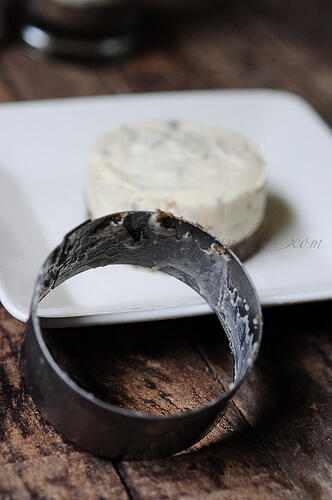 Notes:
– I have used my own proportions for the cream cheese portion of this cheesecake recipe. You can experiment with it too. Adding some mascarpone to it will be a great idea.
– If you want a firmer cheesecake that holds its shape for longer, add some gelatine mixed with warm water to the cream cheese mixture.
– I used a mix of graham crackers and Oreo cookies for the base. You can use a graham cracker base for this too, entirely up to you.