When I posted the paneer tikka, a few people commented that I am quite the paneer lover. More than loving to eat paneer, I love cooking with it. It's so versatile! Cheese that lends to grilling, frying, crumbling, and rolling has got to rank up high in any cook's list, right?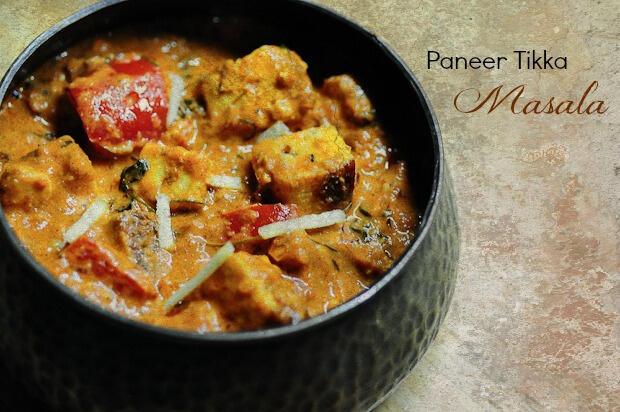 Anyway, I had been meaning to try Paneer Tikka Masala for ages now but just didn't get the mojo until last weekend. I made paneer tikka in the evening and then used that for the paneer tikka masala gravy for dinner.
The gravy for this dish is loosely adapted from a Sanjeev Kapoor Khana Khazana booklet called "Paneer". I bought it many years ago but never cooked from it until this rainy Sunday evening last weekend. I have cut out some of the ingredients and steps to make it quick and easy, the way I like my recipes.

Paneer Tikka Masala-Paneer Tikka Restaurant-Style
Preparation time: 1 hour
Cooking time:
Serves 4
Ingredients:
1-2 cups of paneer tikka cubes (how to make paneer tikka)
1 large onion, minced
2 tomatoes, pureed
1 tbsp of tomato paste (or 1 pureed tomato)
1 tsp of coriander powder
1/2 tsp of jeera / cumin seeds
1/4 tsp of turmeric powder
1 tsp of Kashmiri red chilli powder (or 1/2 tsp regular chilli powder)
1 tsp of minced ginger
1/2 tsp of crushed garlic
1 tbsp of kasuri methi (dried fenugreek leaves)
1/4 cup of cream
Salt to taste
Ginger slivers for garnish
Coriander leaves for garnish (optional)
1 tsp of tandoori masala (optional but recommended)
1 tbsp of oil
How to Make Paneer Tikka Masala (Step by Step)
1. Heat oil in a pan and add the cumin seeds. When they sizzle and turn aromatic (5-10 seconds), add the minced onion.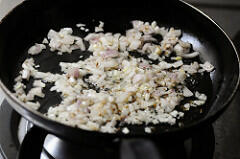 2. When the onions begin to turn a dark brown, add the ginger and garlic. Saute for 10 seconds.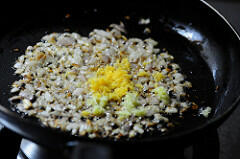 3. Add all the spice powders – red chilli powder, turmeric powder, coriander powder and some salt. Fry for 20 seconds until the mixture turns fragrant. Take care not to burn the spice powders by keeping the flame at medium low.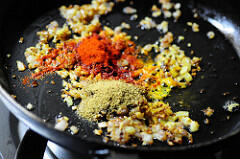 4. Now add the tomato paste and pureed tomatoes along with 1/2 to 1 cup water. Mix well and cook on low flame until the mixture thickens – 3-4 mins.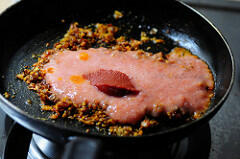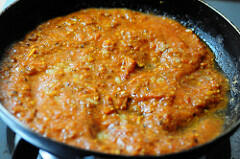 5, Add the kasuri methi and the cream. Mix well, keep flame on low and heat through. Don't boil the mixture for more than 5 seconds or so (the difference in colour of the gravy is due to lighting, not the kasuri methi!)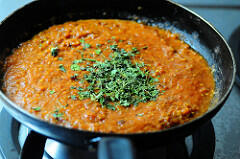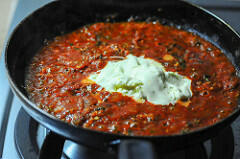 6. Finally add the paneer pieces, tandoori masala, coriander leaves (if using) and more salt if required and mix well. Once the gravy and the paneer are heated through, remove from fire. You can add whatever vegetables you used for the paneer tikka to the gravy too. I had used red bell pepper so added that in.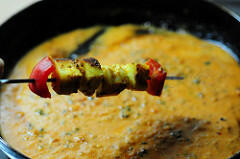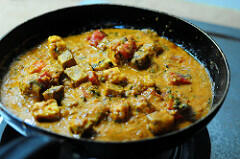 Garnish with ginger slivers before serving.


Paneer Tikka Masala goes great with tawa naan and roti but I was too lazy to make any for dinner that night so served it with a super quick jeera rice made in rice cooker.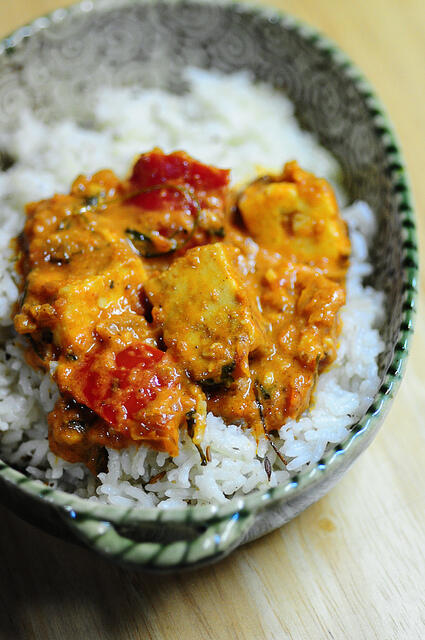 Makes for a tasty, pretty meal 🙂