You know what? I always thought
panna cotta
was this incredibly difficult thing to make. I even thought it would be something like doing the inverted dog position and staying there for 5 mins without moving. Yeah, yoga taught me how tough it is to stay in one position doing nothing.
And blueberry coulis. I couldn't even pronounce that 2 years back. Thanks to Masterchef Australia and watching 8-year olds whip up perfect berry coulis, I finally got around to making it myself.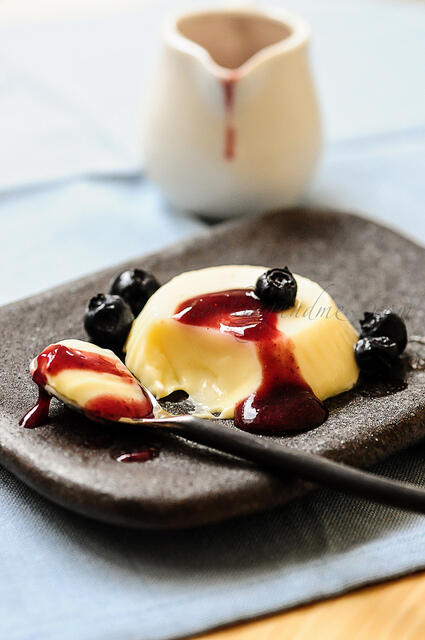 This is a perfect dessert for entertaining for many reasons:
– it's easy. like really really easy to put together
– it needs to set in the refrigerator which means you can make it well in advance
– few people would dislike it. I mean, it's milk and cream and sugar.
– you can set it in individual portions and serve it as is which is not only pretty but also means you don't have to share dessert. That's my idea of perfect situation. Not sharing dessert
– this is an eggless dessert!
– did I mention it's easy?
You may also want to check out this no-bake mango cheesecake recipe, eggless oreo cheesecake recipe, and my 3-ingredient mango ice-cream recipe!
Eggless Vanilla Panna Cotta Recipe
Preparation time: 5 minutes
Cooking time: 10 minutes
Serves 2-3
Ingredients:
1 cup of cream (any kind that you can pour should do)
1 cup of milk (full fat works best)
1/3 cup of sugar, heaped
1 vanilla bean pod (or 1 tsp extract)
1 tsp of gelatine (or 2 tsp / 5gm agar agar or china grass)
2 tbsp of boiling water
How to make Panna Cotta:
1. Pour the cream and milk into a pan.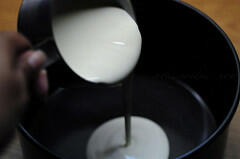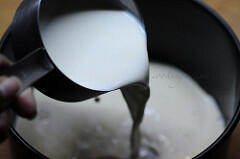 2. Scrape the caviar (seeds) out of the vanilla pod and add to the cream mixture. You can throw in the pod too, we'll remove it later. Vanilla pods are expensive so make the most of them!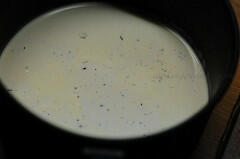 3. Bring this mixture to a boil and add the sugar.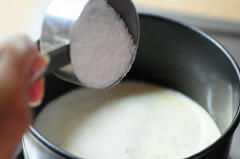 4. Mix well and simmer until the sugar dissolves. Remove from fire, strain, and set side.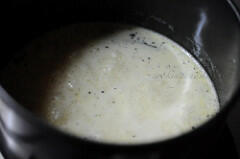 5. Bring 2 tbsp water to a boil (I did this in the microwave) and add the gelatine or agar agar to it. Stir until combined with no traces.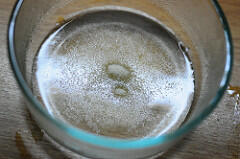 6. Add the gelatine mixture to the strained cream mixture and mix well.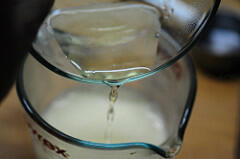 7. Pour this mixture into moulds, small cups, ramekins, a pudding dish, anything that takes your fancy. I used silicone cupcake moulds. Lightly oil (with any neutral oil) whatever mould you use, otherwise it will be tough to unmould later (if you plan to serve it that way).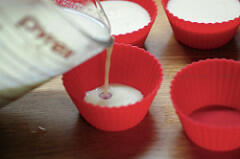 8. Let it cool completely and refrigerate for at least 8 hours or overnight.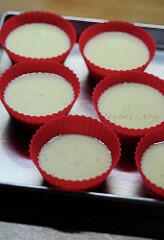 Now we need to make the Blueberry Coulis to serve it with. It's even easier than the panna cotta as if that was even possible!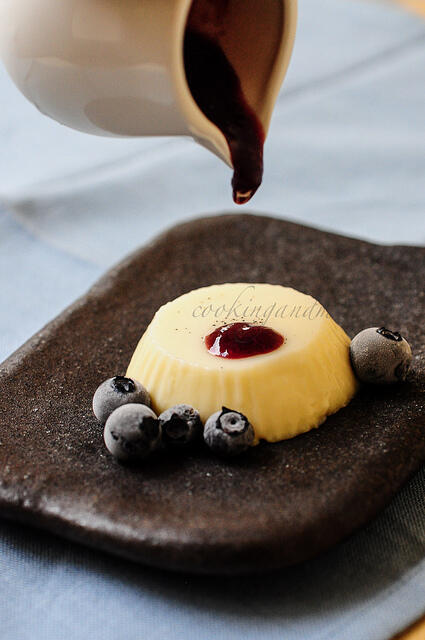 Blueberry Coulis Recipe
Preparation time: 3 minutes
Cooking time: 2 minutes
Serves 2-3
Ingredients:
1 cup of blueberries
2 tsp of sugar
A few drops of lemon juice
How to make Berry Coulis:
1. Blend the blueberries and extract as much juice as possible. If using frozen blueberries and you don't have time to thaw it out, just rinse in tap water a couple times and use as normal.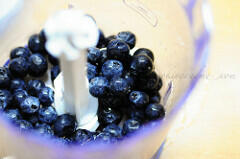 2. Pass the blueberry puree through a sieve and discard the pieces of skin and tiny seeds. You should get smooth, thick blueberry juice when done.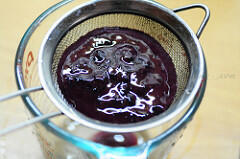 3. Add the sugar to this and mix well…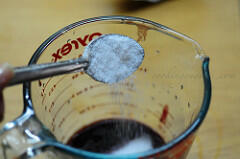 … followed by the lime juice.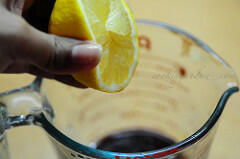 Now technically, you're supposed to simmer this mixture for 2-3 mins but I just gave it a whirl in the microwave for a minute on medium heat. Stir again to combine, cool, and refrigerate. You can make this immediately after the panna cotta and let them both sit together in the refrigerator. You know, get to know each other before they get served together or something.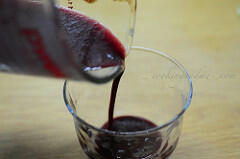 We're done! Once the panna cotta has set, unmould by inserting a knife along the edges, placing a plate over the mould, and gently overturning it. I'd recommend not going through the hassle and just serving it in the dishes that you set them in. Either ways, looks and tastes delicious!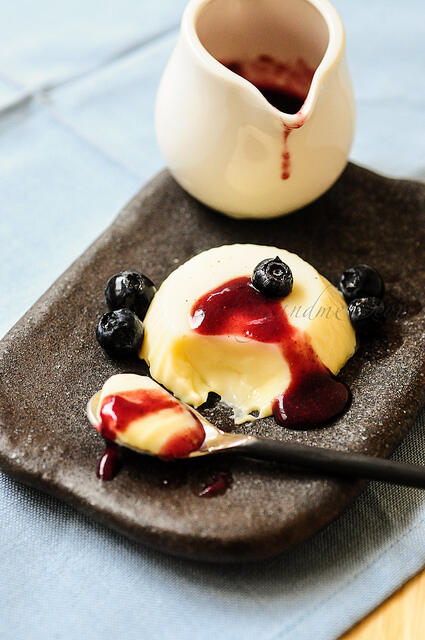 Sweet panna cotta perfectly balanced by the tangy blueberry coulis.
Notes (because I feel like I haven't talked enough!)
– You can make the coulis with pretty much any berries you can lay your hands on. You can also skip it and serve the panna cotta with warmed chocolate sauce.
– You can layer the panna cotta and coulis before setting. I really wish I'd done that actually. Layer the bottom of a shot glass with the blueberry coulis, pour some panna cotta mixture on top, layer again with the coulis, etc. That would be super pretty!
– The amount of sugar mentioned makes a mildly sweet panna cotta so add more if you want it sweeter.