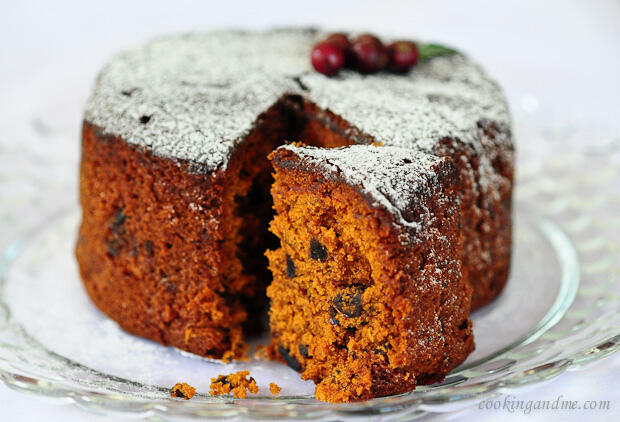 Kerala Plum Cake or Christmas Fruit Cake Recipe – Christmas in Kerala is what memories are made of. I haven't come back in 6 years so this year is extra special. Except for once or twice when I was a kid, Amma hasn't made fruit cake at home from scratch because every year we are inundated with cakes from friends celebrating Christmas.

This year's first cake is from Omana Paul, a popular caterer and good friend of ours. Their plum cake is very popular and they make thousands at this time of the year. Amma had the recipe so I wanted to share it in time for Christmas. I have also shared an eggless fruit cake recipe if that's what you are after. This tutti frutti cake is perfect for those who don't really like plum cakes or raisins. I have a few of those in my family too but tutti frutti, they love!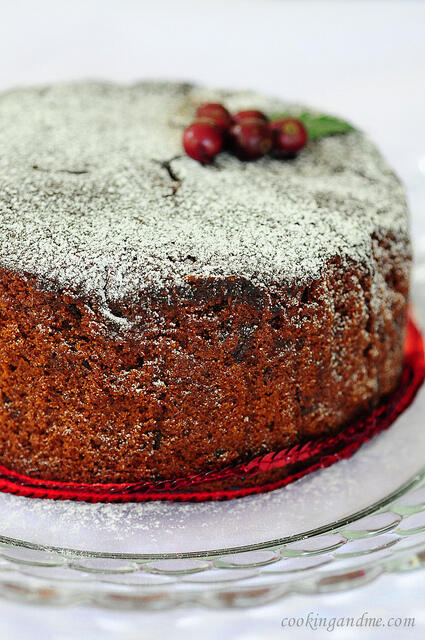 Also check out a list of easy Christmas cakes and cookies.
This recipe doesn't need you to soak the dry fruits in advance and it's alcohol-free so you can make it instantly just before you need it.

Kerala Fruit Cake Recipe
Kerala Christmas Fruit Cake Recipe Makes one 6" cake Recipe adapted from Omana Paul
Ingredients
1 cup plain flour
½ cup chopped cashew nuts
¼ cup black raisins
½ cup mixed dry fruits (dates, cherries, orange peels)
1.5 cups white sugar
⅔ cup butter, at room temperature
3 eggs
1 clove + 1 cardamom pod + small piece of cinnamon + a pinch nutmeg (pound together to powder)
1 tsp baking powder
1 tsp vanilla extract
A pinch of salt
Instructions
Christmas fruit cake requires you to caramelize sugar. Don't be like me and worry about it, it's really not that hard, you just need to be careful while doing it. In a pan on medium heat, melt ½ cup sugar slowly. It will first melt and then turn into a dark brown goop. Keep stirring and let it turn a deep dark caramel colour. Don't let it burn. Turn off heat and add about ¼ cup water. The sugar will harden. Turn the heat back on and slowly heat the mixture until the sugar crystals dissolve. This will take around 10 mins. Let this cool and set aside.
Pre-heat oven to 350F / 180C.
Add 3 tbsp flour to the dry fruits and nuts and dredge completely to coat it. This is so that they don't sink to the bottom of the batter while baking. Set aside.
Mix the remaining flour and baking powder, spices, and salt until well combined.
Beat the butter and 1 cup sugar until fluffy - about 10 mins by hand, 3-4 mins with an electric beater. Add vanilla and mix until combined. Next, add 1 egg and beat. Then add a bit of the flour mixture and fold. Likewise, alternate between the eggs and flour mixture until they are used up.
Add the cooled caramel and dredged fruits and gently fold in. Pour batter into a greased cake pan and smooth the top.
Bake for 50-55 mins until the top turns a dark brown and when a skewer inserted into the cake comes out with dry crumbs. You can start checking from 45 mins but usually in our oven, it takes up to 55 mins. The top will look like it's overdone but don't worry, make sure the inside is also completely cooked.
Dust with icing sugar when the cake is completely cooled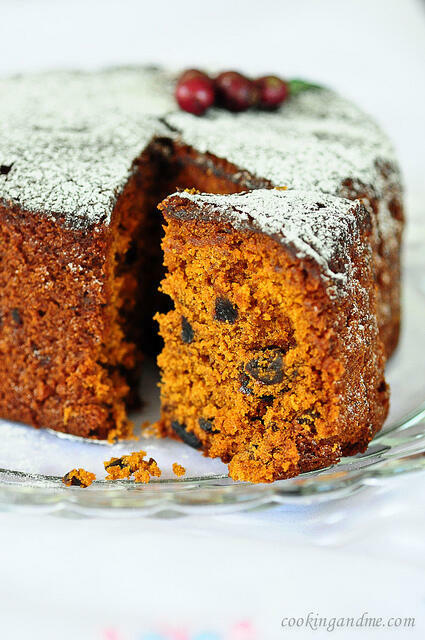 Notes:
1. The amount of fruits and types of it is entirely up to you. I'd recommend to use orange peels if you can because it enhances the flavour a lot.
2. We are not huge fans of raisins in Christmas cake, so we adjust the quantity of that. You can do the same.
3. If you plan to ice the cake, reduce sugar by 1/3 cup. This cake is sweet enough on it's own.
4. I haven't made this cake myself, all observations and notes are from amma and her memory. If you try this, please let me know 🙂
5. Omana Paul has another type of Christmas Cake which they call the rich dark plum cake. That cake is sticky, almost black, very rich, and quite alcoholic. If I can get my hands on that and the recipe, will post soon!
Merry Christmas, everyone!