I tasted this
banana cake
for the first time when I was in Sydney. I have a colleague there who loves baking almost as much as I do and she bakes cakes for people in her team very often. She brought this banana cake and a flourless chocolate cake the day I landed. They were both divine.
Australians love their banana bread. Its a staple in all coffee shops – thick slabs of banana bread often served toasted with butter. Ah, bliss.
The moment I had my first taste of this cake, I decided I not only want the recipe, but I want the book it came in as well. I asked her to bring it in the next day and ordered it online the same day. It reached home to Singapore before I did.
I made it exactly the same way mentioned in the book the first time. It tasted wonderful – quite dense, sweet, deliciously banana-y. The cream cheese frosting was the perfect indulgence along with the humble banana backing. The beauty of this cake is, it can be entirely made in a food processor
, if you have one. I have an immersion hand blender
that has a processor/chopper which worked perfectly. If not, you can just use your hand-help whisk or electric beater to bring the batter together. If I had a blender
, I would have tried mixing this cake in it.
The second time around, I decided to make it less sweet with no frosting, perfect for breakfast or to carry in a tiffin box to school, work, or a picnic.
Also check out this banana bread recipe, eggless banana oatmeal cookies, and eggless chocolate banana pound cake.
The Most Fabulous Banana Cake Recipe
Adapted from: Mix and Bake by Belinda Jeffery

Makes 12 large pieces
Ingredients:
3/4 cup (110gm) plain flour
1.5 tsp baking powder
1/2 tsp salt
1/4 tsp baking soda
1 very ripe large banana (about 1/2 to 3/4 cups when mashed)
3/4 cup granulated sugar (regular white sugar)
1 egg
1/4 cup (4 tbsp) butter, at room temperature
50ml sour cream (or buttermilk as in original recipe)
1 tsp vanilla extract
For Cream Cheese Frosting (optional – you can just dust with icing sugar too):
125gm cream cheese, cut into chunks, at room temperature
1/4 cup (4 tbsp butter), cut into chunks, at room temperature
3/4 cup (150gm) icing sugar
1 tsp vanilla extract
How to Make Banana Cake:
1. Preheat oven to 350F / 180C. Grease a 9″ cake pan or a brownie pan like I used. This size is actually for the recipe which I have halved here so you can only make a thin single layered cake if you use a 9″ pan. Try a smaller pan if you want to frost the cake in layers.
2. Put the flour, baking powder, salt, and soda into the food processor and whiz them together for about 15-20 seconds. Tip into a bowl and set aside. If mixing by hand, just put everything into a bowl and blend together using a whisk or a fork.
3. Chop the banans into the food processor next and whiz into a pulp. Make sure the banana is really really ripe. Again, you can do this by hand using a fork or potato masher, in a separate bowl.
4. Add the sugar and egg to the mashed banana and whiz for another minute. Then add the butter and whiz for another minute until the mixture is thick and creamy. (Cream together for about 5 mins if doing by hand).
5. Next, add the sour cream (or buttermilk) and vanilla extract and whiz in quick pulses until just blended. Fold together if doing by hand.
6. At this stage, you can either tip the flour mixture into the food processor or fold together in a separate bowl. My chopper bowl is not that big so I did this in a bowl. Add the dry ingredients to the wet ones and fold until just blended. Don't overdo the mixing part.
7. Scoop into greased tray and smooth out the top layer evenly.
8. Bake for about 40 mins or until the top turns golden brown and the cake passes the skewer test. Remove and let cool completely before frosting.
For Cream Cheese Frosting:
Whiz together all ingredients in the food processor for about a minute until well blended. Chill until needed to frost. You can mix by hand too, just make sure the butter and cream cheese are softened to room temperature so that they blend well when mixing with hand.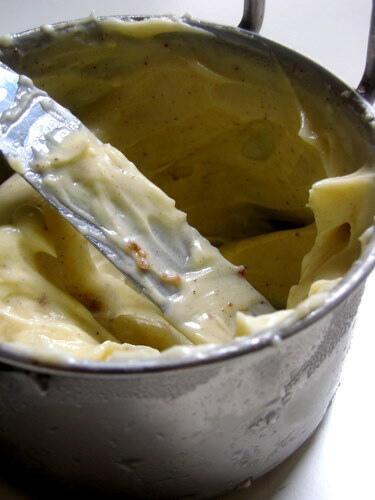 Frosting from the first time I made the cake
When the cake is cool, layer on the frosting on all sides. Cut and serve. With sour cream, the cake turns out much much softer so try and use it instead of buttermilk, if you can. Yum.
Note: this post contains affiliate links.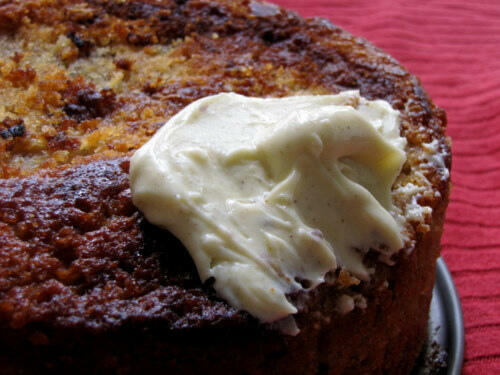 The first time I made this cake. Came out denser, but equally yummy.