This month I was determined to do a fairly good job with all the events. I mean, in terms of participation, of course. One of my favourites is AFAM but unfortunately I wasn't able to participate in the last one because of the unavilability of peaches in the near vicinity of my home.
This month's fuit, dates, is a real delight because it is so readily available and in so many different varieties and prices. I bought a tub of lion dates from Food Bazar yesterday. I am going home in vacation for 10 days and may not be able to cook with dates at home, so was determined to come up with something simple for this month's AFAM, hosted by Chandrika of Akshayapatra.
I love puddings with biscuits in it. Soggy, crunchy, however they may taste. I especially love Marie biscuits for its subtle crunchiness and added flavour. So this is a humble attempt from me to make something nice with biscuits and dates.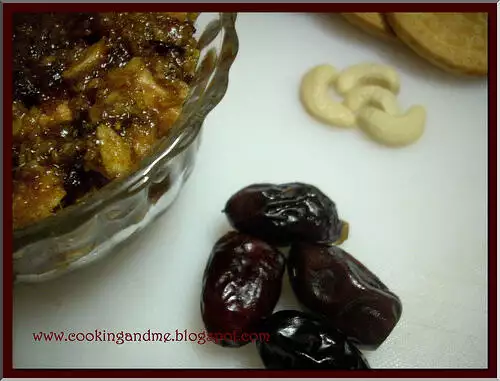 Dates-Biscuit Pudding Recipe
Ingredients:
Dates – 10, chopped
Marie biscuits – 8, crushed coarsely
Butter – 4 tbsp, unsalted
Sugar – 2 tsp
Egg – 1, optional
Cashew nuts – a few, chopped
How I Made It:
1. Heat butter on low flame and mix sugar until dissolved.
2. Add chopped dates and cook till soft and a nice smell eminates. Then add the nuts.
3. Remove from fire and while hot, add the beaten egg. Mix well.
4. Stir in the crushed biscuits and let cool.
5. Refrigerate for 3 hours and serve. The consistency would be thick and sticky. I served it in a bowl. You can also try and roll it into balls and coat it with powdered Marie biscuits. The flavour of the caremalized sugar in butter and the crunchiness of the Marie biscuits makes this really yummy. Kids would also love it.
—————————————————————————–
Note about WBB #17 – Cornflakes.
I am home on vacation till December 10 and will be posting the round up only then. So please feel free to send in your entries to the event. More details here.
Thanks to all those wonderful bloggies who sent me their wonderful recipes with this comparatively tough ingredient, Cornflakes. See you all at the round up next week!