Before I start off on how to make your own ghee in 15 mins, let me wish all of you celebrating a wonderful Navaratri Festival Season. Check out
Navarathri Recipes
on Edible Garden (complete with different types of
sundal
and
payasam
and
snacks
for
navaratri
).
========================================================================
A lot of my Indian recipes, especially pulao and biryani and some sweets, call for ghee or clarified butter. Ghee almost unites all of India food-wise because there are very few foods consumed all over India with the same amount of gusto as ghee! Although many brands sell different versions, nothing beats the simple and aromatic ghee made at home from butter.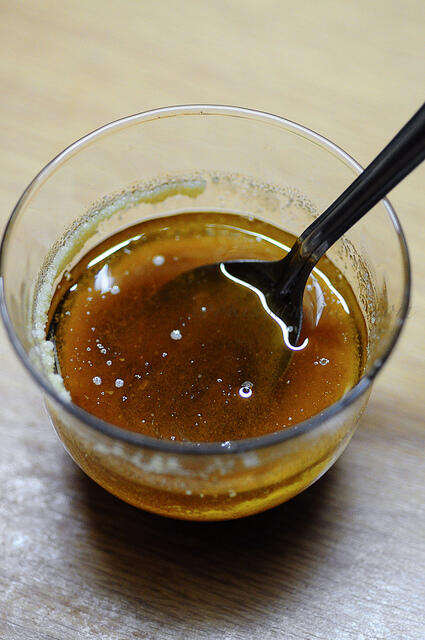 Ghee is another one of my maternal grandmom's specialty. She was so in love with the whole process of boiling the milk, saving the cream on top, churning it to make butter, and then finally making ghee out of it, that she earned the nickname nei-chatti (ghee pan, when translated loosely) from some of her naughty grandchildren. No, definitely not me! 😀 Very little else gave her as much pleasure as making ghee from scratch at home, one would think. Amma still follows the same method because we are still lucky enough to be getting milk directly from the… err.. cow. She gets so much better from it that she ends up giving away bottles and bottles to lucky neighbours, friends, and relatives.
Although this is nothing like the 'real deal' I grew up eating, I make some ghee now and then from butter. It's easy, quick, and since ghee stores well, I can it up for a good 2 months before I need another batch. Store-bought ghee doesn't have half the flavour or aroma of this quick ghee made from butter.
Homemade Ghee Recipe
Preparation time: 3 minutes
Cooking time: 10 minutes
Makes 1/2 cup
Ingredients:
200 gm of good quality, unsalted butter
1 strand of curry leaves (optional but highly recommended)
How I Made It:
1. Start with softening the butter to room temperature. This allows uniform 'cooking'. Use unsalted butter, that's important. Salty ghee can't be pleasant.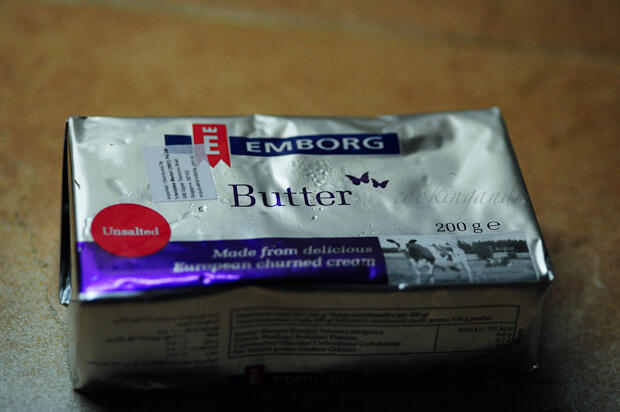 2. Keep a heavy-bottomed pan on very low low heat and dump the butter in. I am not sure if it will make any difference if you used a non-stick pan here, I used a stainless steel sauce pan.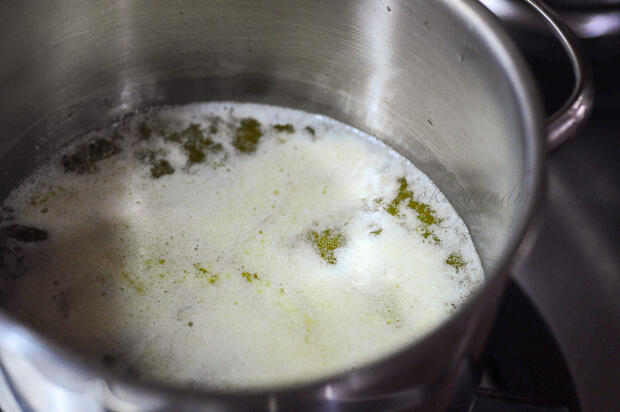 Continue to simmer on low heat as the butter bubbles up and turns aromatic.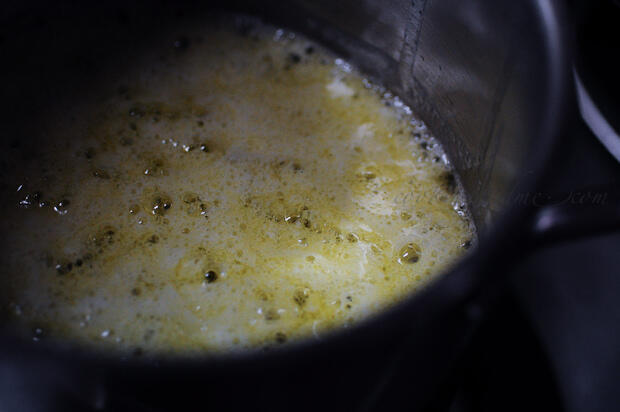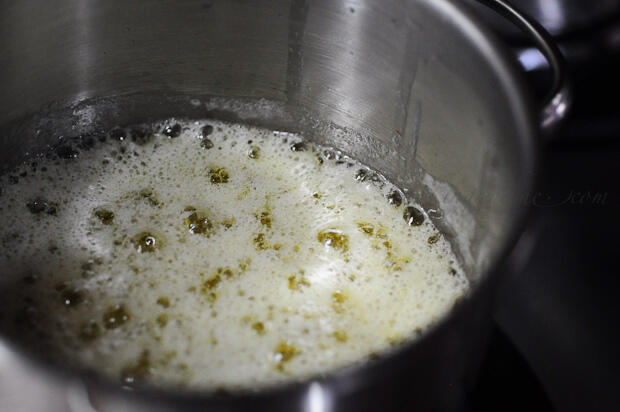 In about 5-10 mins, depending on the amount of water in your butter and the temperature, the butter will turn a golden brown and some of the fat solids will crust at the bottom of the pan. Don't over-scrape it, just gently mix the butter as it cooks.
3. Once it starts crusting around the edges, as in the picture above, add the strand of curry leaves (washed clean and dried). Let it cook in there for a minute or two and then remove from fire.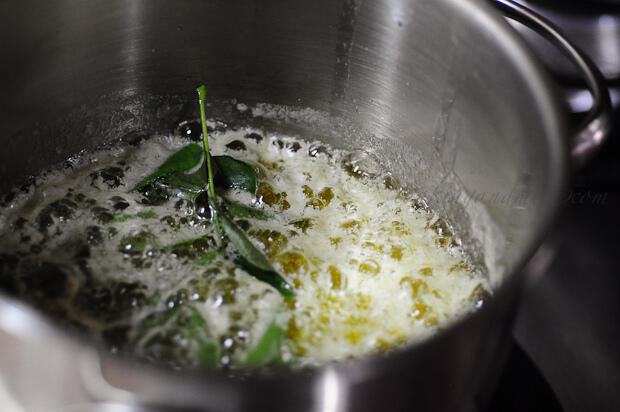 Let it cook in there for a minute or two and then remove from fire. By this time, the butter will not sizzle and bubble as much as before and the edges will be browner. It's time! Remove from fire and set aside to cool.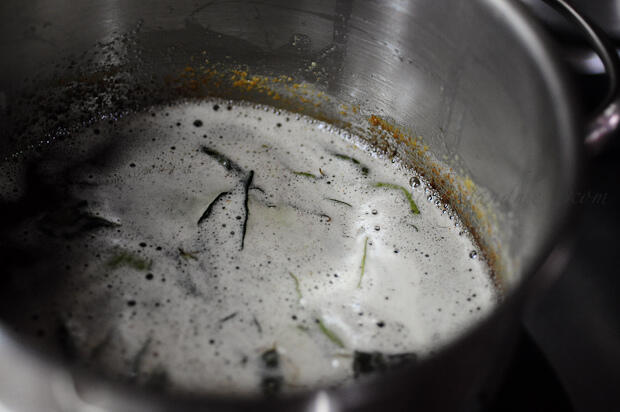 4. Once it's warm. strain into a clean (preferably glass) container and store at room temperature if you plan it use it up within 2-3 weeks or in the refrigerator for longer storage. As it ghee cools down, it will solidify so do the straining process when it's warm and not completely cooled.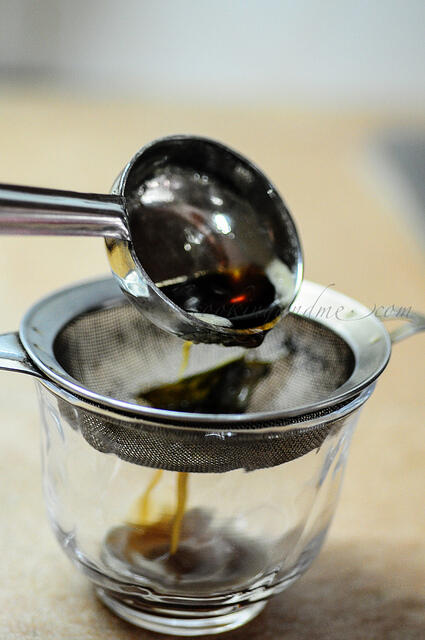 That's it! Use in all your favourite recipes and sweets and enjoy the fresh aroma of home made ghee. As Diwali is coming up, I am guessing you guys will be using up a fair amount of ghee for the Diwali Sweets Recipes. Hope this recipe comes in handy then!
Notes:
– the curry leaves add a lovely aroma to the ghee, making it smell more nuttier than it inherently is. You can still use this ghee for all kinds of sweets, so don't let that bother you. You can skip the curry leaves if you really want to.
– I will say this one more time, just in case – use unsalted butter!
– When the water content in the butter is higher (like in homemade butter), the cooking time will be much higher. In either case, keep a close eye on the pan otherwise the ghee will burn.
– I have cooked my ghee a bit longer than it needs, in the pics above. The aroma was out of this world! You can stop a bit earlier if you prefer.
– When in the refrigerator, the ghee will harden and be a lighter colour than when liquid. Leave out for some time before using.
– Ghee is the preferred "fuel" for lighting diyas and lamps during pujas and festivals in India. It's believed that the light emitted from a ghee lamp (nei vilakku) is brighter and emits more positive energy than any other oil, although sesame oil comes a close second and more affordable to all.