Making pizza at home from scratch is probably the most satisfying thing you can do as a cook or baker. I have made many pizza recipes at home since this first one with gouda cheese but the recipe for the base of the pizza has always remained the same because it works so well each time. I am a few days late to post this month's Sweet Punch entry but I had to do it, even if it late. Its pizza from scratch, how can I not?! Update: here's a new
30-min pizza base recipe
you may like.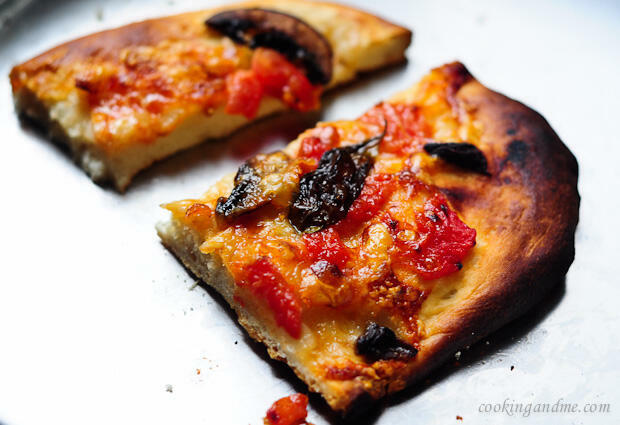 The first and only time I made pizza from scratch was when I went for cooking classes at Palate Sensations. It was amazing (especially because I didn't partially burn it then) and since then I stopped buying pizza base. What that also meant is, I didn't make pizza at home for ages.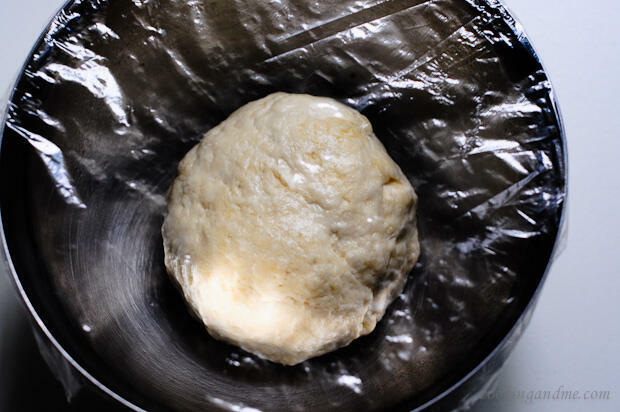 But its super easy. Remember those garlic rolls that all of you loved and tried at home? Trust me when I say this is not even half as hard. With me? Ok here goes.
Gouda Cheese Pizza Recipe
Ingredients
1 tsp Active Dry or Instant Yeast
4 cups all-purpose flour
1 tsp salt
1/3 cups extra virgin olive oil
Instructions
Sprinkle yeast over 1 1/2 cups warm (not lukewarm) water.
In a mixer, combine flour and salt. With the mixer running on low speed (with paddle attachment), drizzle in olive oil until combined with flour. You can definitely do the mixing by hand, just knead gently, no need to waste too much energy.
Next, pour in yeast-water mixture and mix until just combined.
Coat a separate mixing bowl with a light drizzle of olive oil, and form the dough into a ball. Toss to coat dough in olive oil, then cover the bowl tightly with plastic wrap and store in the fridge until you need it.
Preparation time: 10 minutes
Cooking time: 20 minutes
Serves 2
According to PW, it's best to make the dough at least 24 hours in advance, and 3 or 4 days is even better. I kept it in the fridge for exactly 25 hours.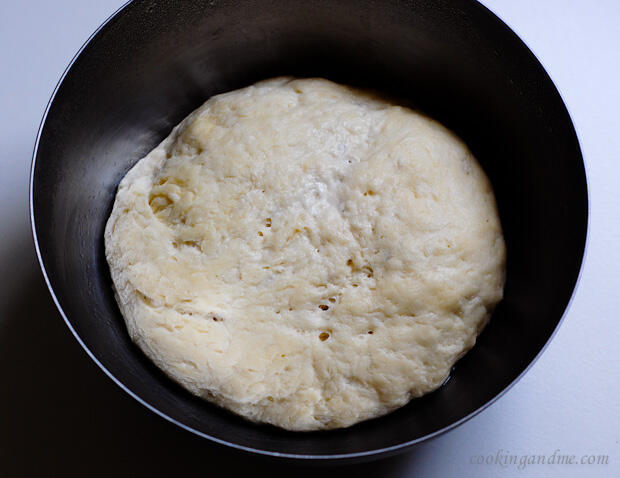 Here's how it looks after 24 hours or so. Slightly risen and quite airy.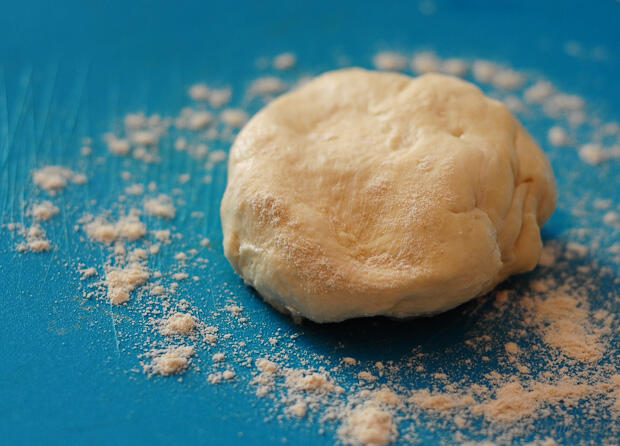 Transfer half the dough to a floured surface. Lift and rotate the dough into a circle or rectangle, letting gravity do its job extending the dough on all sides. My dough didn't seem too elastic though and I was a bit worried. But it turned out perfect in the end.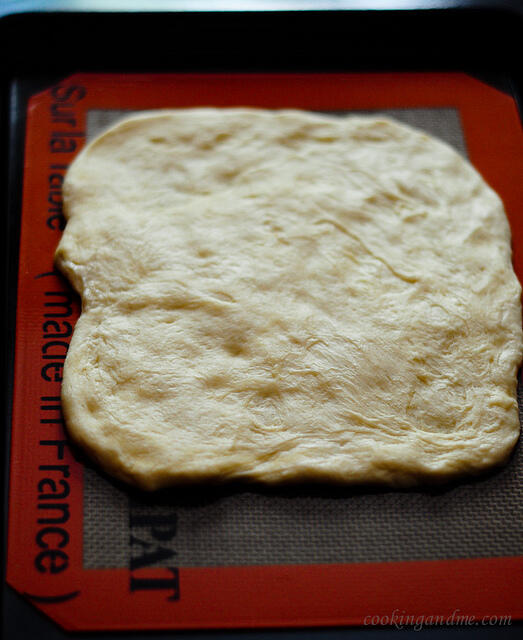 Once you have a rough shape, transfer to a greased baking sheet (or use your Silpat
– I got mine this time from the US – yay!!) and shape further using your fingertips to the right thickness you desire. I kept it neither too thick nor too thin.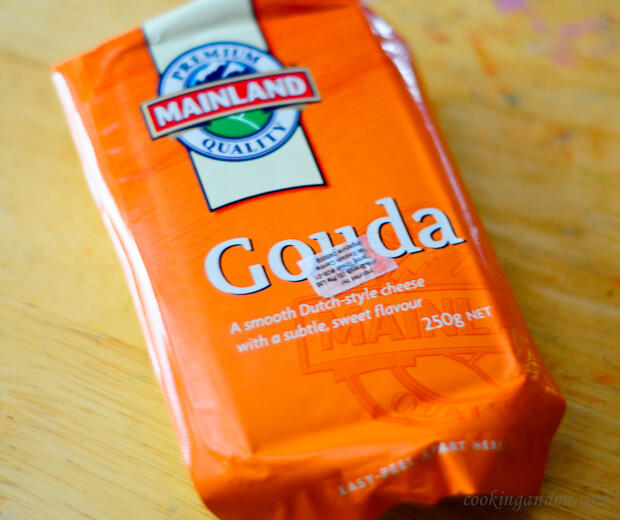 Oh btw, I decided to make a face at convention and used Gouda cheese in my pizza. You should do it too. Its not as elastic or chewy but has a lovely flavour and gives more depth to the pizza, making it taste gourmet. Or something like that. Try it.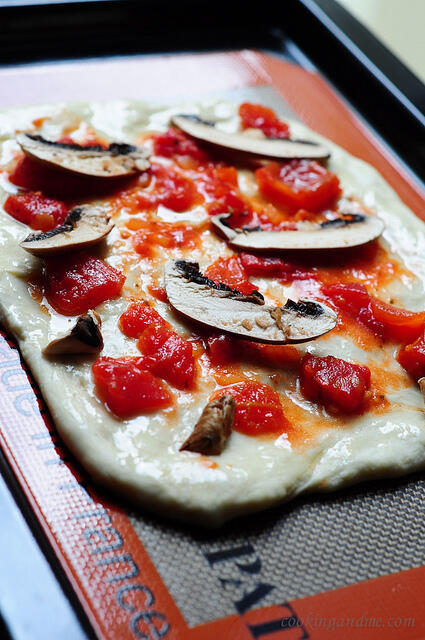 Once you have your base ready, rub some olive oil on the base and you can go crazy with your options. I decided to keep it relatively simple. Some diced tomatoes went on first, followed by thin slices of portobello mushroom.
This exercise actually make me realise how little you need to make a pizza. I used like half a mushroom to cover up the pizza!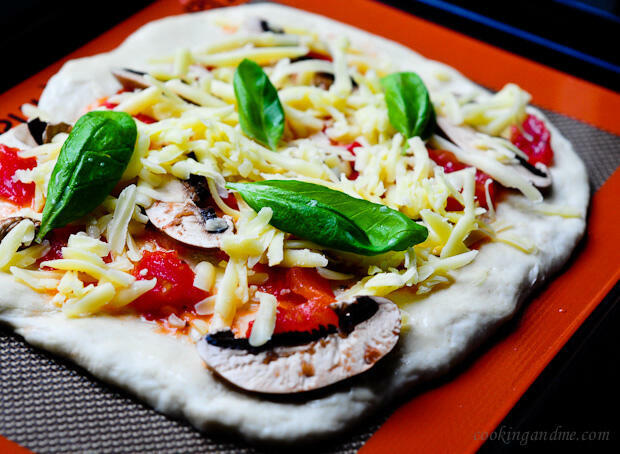 The tomatoes and mushroom were followed by the freshly grated Gouda cheese and lovely, gorgeous, fresh basil leaves from my own herb 'garden'. I was so proud!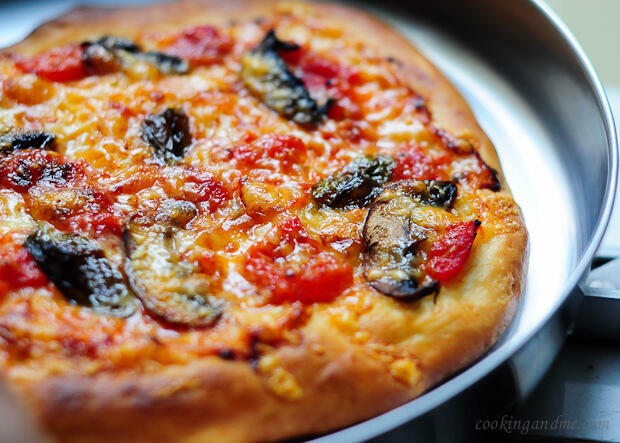 Bake in a 500F / 260C oven (or as high as your oven goes) for about 10-15 mins (until the crust turns brown and the cheese bubbles up nicely). I slightly burnt one side of my pizza because I had a guest and was talking to him. That also explains the very hastily taken last pic!
Loved this challenge, love pizza from scratch – actually love anything with cheese.
The end.