Chicken thoran
is one of those dishes from my childhood that aatha (amma's amma used to make). It was not everyday fare because you need boneless pieces of chicken to make it and you need a lot to feed a family of 8.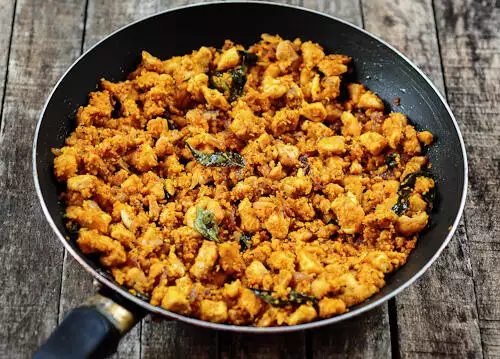 Although generally thoran is a Kerala preparation (pretty much any vegetable can be made into thoran using grated coconut, shallots, cumin, and green/red chillies), I am led to believe this is a Reddiar recipe that first originated in Thirunelveli when the Reddiar community was concentrated there. Maybe they decided to call it thoran after moving to Kerala and being introduced to the concept.
Either ways, this is a delicious chicken recipe and very easy to make even for beginner cooks. If you want to check out more chicken recipes, my favourites are – chilli chicken dry, chicken iguru, pepper chicken masala, and chicken biryani.

Chicken Thoran – How to Make Chicken Thoran
Preparation time: 15 minutes
Cooking time: 30 minutes
Serves 6-8
Recipe source: Amma
Ingredients:
500 gm of chicken, cleaned, deboned, and cut into small chunks
1 tbsp of butter
2 tsp of red chilli powder (adjust to taste)
1/2 tsp of turmeric powder
2 strands of curry leaves
1 cup of grated coconut
3/4 cup of sliced shallots (chinna vengayam, ulli)
2 tsp of garlic-shallot paste (grind together some garlic and shallots)
1 tsp of salt (adjust to taste)
1 tbsp of oil
1 tsp of black mustard seeds
1 tsp of urad dal (ulutham paruppu, uzhunnu parippu)
How to Make Chicken Thoran:
1. We need to cook the chicken first so add the pieces to a pan.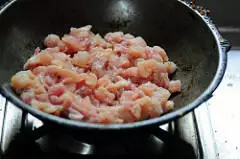 The chicken pieces are cooked in butter and my mom being her true self, whipped up some fresh butter for the dish.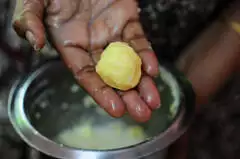 2. Add the butter and red chilli powder and turmeric to the chicken pieces.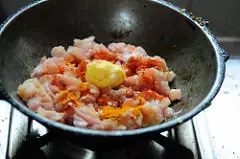 3. Stir well and add the curry leaves.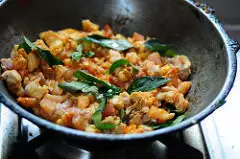 4. Turn on heat to medium-low and cook stirring occasionally for about 10-15 mins until the chicken is cooked and the water it lets out has evaporated. If there's more water left, cook on high flame until it's all absorbed.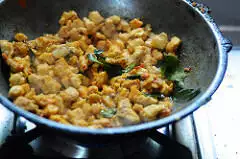 5. Meanwhile, get read with your sliced shallots, grated coconut, and shallot-garlic paste.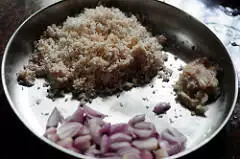 6. Remove the cooked chicken to a bowl and heat oil in the same pan. Add the mustard seeds and broken urad dal.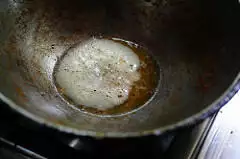 7. When the mustard pops and the dal turns golden, add the sliced ulli or shallots.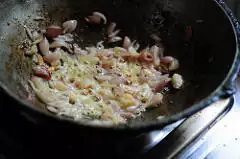 8. Fry until it turns golden and add the shallot-garlic paste. Fry for another few seconds.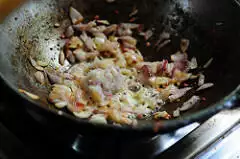 9. Next, add the cooked chicken pieces to this along with salt. Mix well.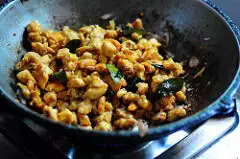 10. Finally, add the coconut, mix well and let the thoran simmer for 3-4 mins until the ingredients come together and there's no excess moisture left in the chicken thoran.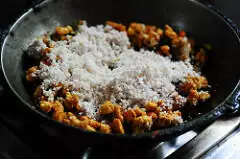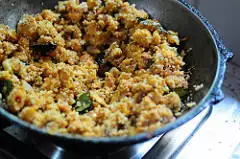 Done! This is a fabulous accompaniment to rice and vatha kuzhambu or rasam. In fact, pretty much any kuzhambu without coconut goes very well with it.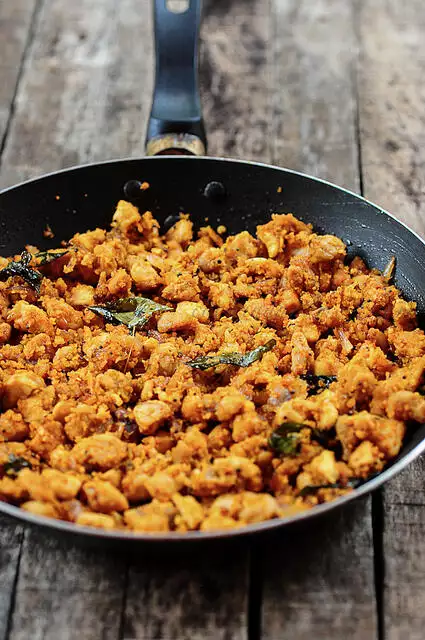 Huge thanks to amma's patience while I clicked the step by step chicken thoran pictures in her kitchen. I really got in the way 😉