Flourless almond coconut cake with almond flour, coconut, butter, eggs, and sugar. This is probably the most simple cake recipe you can make that's flourless and completely gluten-free. A few of you have emailed me asking about gluten free cake recipes, especially for kids so I decided to try a flourless cake at home. This recipe is a spin off of the frangipane cake recipe I shared a few weeks back except that I made it without any fruit and also replaced the plain flour with desiccated coconut. Total win!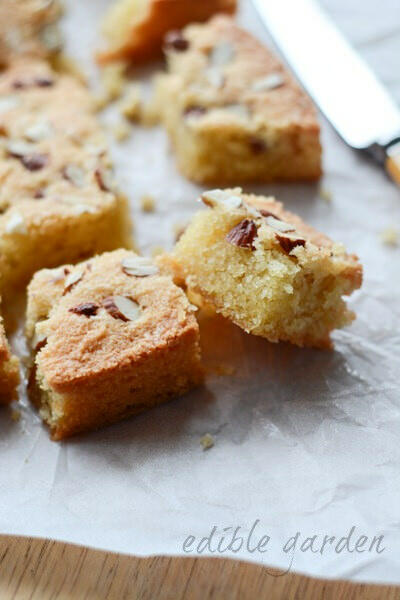 TH and I both like almond-y things like marzipan, almond fudge (the almond version of the popular kaju katli) and frangipane cakes and tarts. So this flourless almond cake was devoured guilt-free over just a couple days. I also shared a few slices with friends and got a ton of requests for the recipe. Sorry guys, it's been over 5 months now. My bad!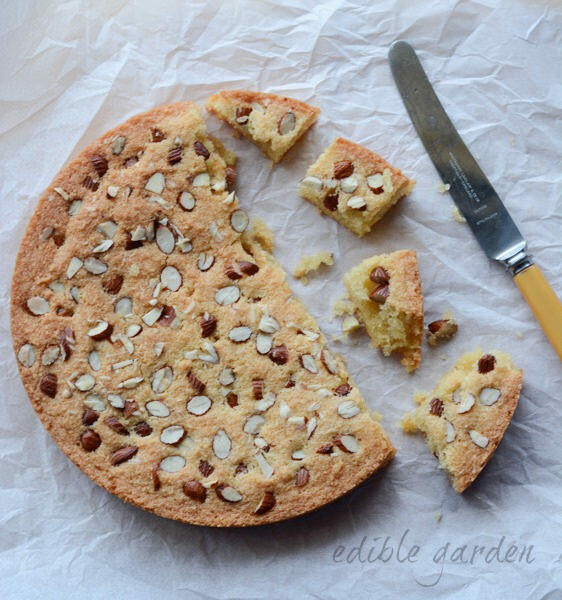 The slices in the picture are a bit uneven and crumbly but that's because I cut the cake right out of the oven. It's the classic food blogger story. This cake was made in the evening, natural light was fast disappearing and pictures had to be taken before it became too dark. So some compromise was made. Don't be like me. Cool the cake completely to get nice and even pieces.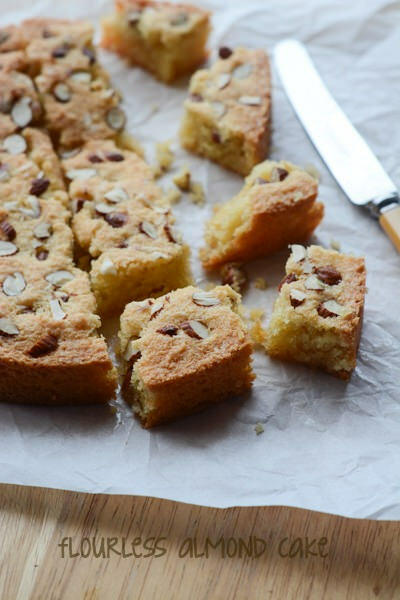 Now, one thing about this cake. Actually, two things. The desiccated coconut gives some additional texture and flavour to the cake. Using freshly scraped coconut in its place will increase moisture and decrease shelf life so use your own discretion if that's the route you want to take. If you are not fan of coconut (and if that's the case, we need to talk), then you can omit that and substitute with more almond meal. The second thing is about the eggs in this recipe. Since we are working with a batter which has no flour, the eggs provide pretty much all the binding that's required. I haven't tried an eggless almond cake recipe yet and I am not sure if traditional egg substitutes will work in this recipe. So if you can't take eggs as part of your diet, maybe you can look at my large list of eggless cake recipes to find one that suits. Ok? Great! Let's go make some almond cake.
Oh, I need to leave you a good list of cakes that I have baked and loved. This banana cake recipe remains an all-time favourite and so does this sticky date cake. Another cake recipe that I almost always default to is this moist eggless sponge cake.
FLOURLESS ALMOND COCONUT CAKE RECIPE
INGREDIENTS:
100 gm of butter
100 gm of sugar
110 gm of almond flour (almond meal)
1/4 cup of coconut flour or desiccated coconut
1 tsp of baking powder
2 eggs
1 tsp of vanilla
1/4 tsp of salt
1/2 cup of chopped almonds
Step by step pictures to prepare flourless almond coconut cake:
Pre-heat oven to 160C / 320F. Grease one 8″ cake tray with non-stick spray or butter.
Mix the butter and sugar until fully mixed. You can do this with a spatula, there's no need to use an electric beater.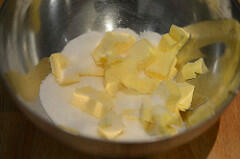 Now add the eggs and vanilla. Mix again until everything is fully combined.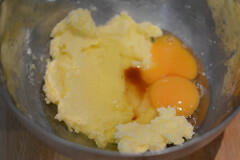 Finally, add the almond flour, coconut, baking powder, and salt. Mix well until no streaks of flour are left.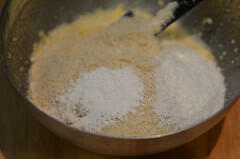 The batter will be fairly thick, that's perfect.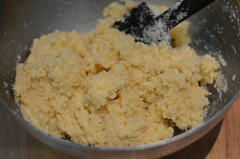 Transfer to the greased cake tray and press gently to get uniform thickness. Add the chopped almonds on top and press into the batter.
Bake in the pre-heated oven for about 30-40 minutes.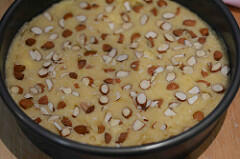 The cake won't rise much but the top will turn a golden brown. The almonds on top will get nicely toasted too.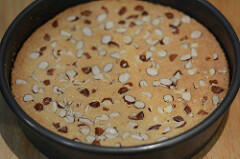 That's it! Let flourless almond coconut cake cool in the pan for 15 minutes and then gently turn onto a plate to cool completely. Cut and store in an airtight container. Best served within 2 days. Refrigerate if you want to keep for longer.
For flourless almond coconut cake in Hindi, Tamil, Telugu, French, Spanish, etc please use the Google translate button in the sidebar.