I love pretty much all forms of
mor kuzhambu
(spiced buttermilk curry), especially the
Kerala-style moru kachiyathu
. It's extremely simple to whip up and tastes great with rice and a spicy side dish. This vendhaya keerai mor kuzhambu is unique, delicious, and has a wonderful blend of flavours that any mor kuzhambu lover would appreciate and enjoy.
Also check out the green mor kuzhambu with coriander leaves.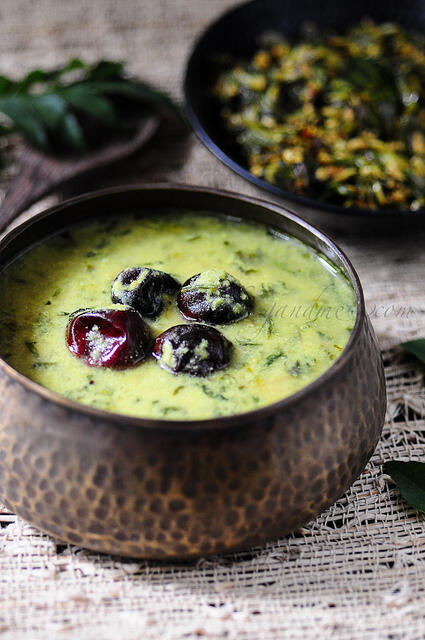 I also love cooking with methi leaves (fenugreek leaves) and the lovely aroma it gives to the final dish. So when I saw this rural Andhra mor kuzhambu (called Thonthana in telugu) in Cooking with Pedatha that uses dal in the mix along with greens and yogurt, I was totally hooked until I tried it.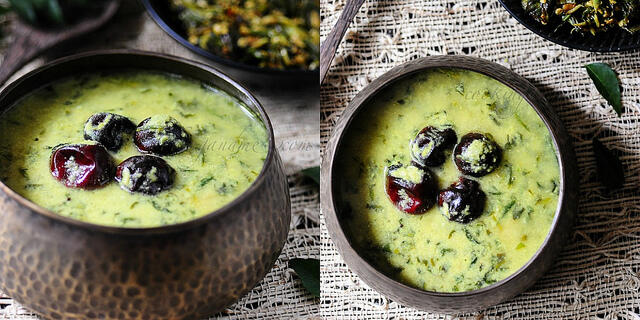 The flavours are simple, yet complex, and the end result is absolutely delicious.
Methi (Fenugreek) Leaves Yogurt Curry | Vendhaya Keerai Mor Kozhambu |
Preparation time: 10 minutes
Cooking time: 30 minutes
Serves 4
Recipe adapted from: Cooking with Pedatha
Ingredients:
½ cup of toor dal / pigeon peas
½ cup of channa dal / Bengal gram
1 bunch of methi (fenugreek) leaves / vendhaya keerai (or 3/4 packed cup frozen methi leaves)
2 cups of thick plain yogurt beaten with 1 cup water
1 tsp of tamarind paste (or ¼ cup tamarind water)
¼ tsp of turmeric powder
½ tsp of hing / asafoetida
A few curry leaves
1 tsp of ghee
Salt to taste
For the paste:
½ cup of grated coconut (I used coconut pieces)
2″ piece of ginger
¼ cup of chopped coriander leaves
3-4 green chillies


For tempering:
1 tbsp of oil
3-4 of dry red chillies
½ tsp of black mustard seeds
How I Made It – Step by Step Pictures: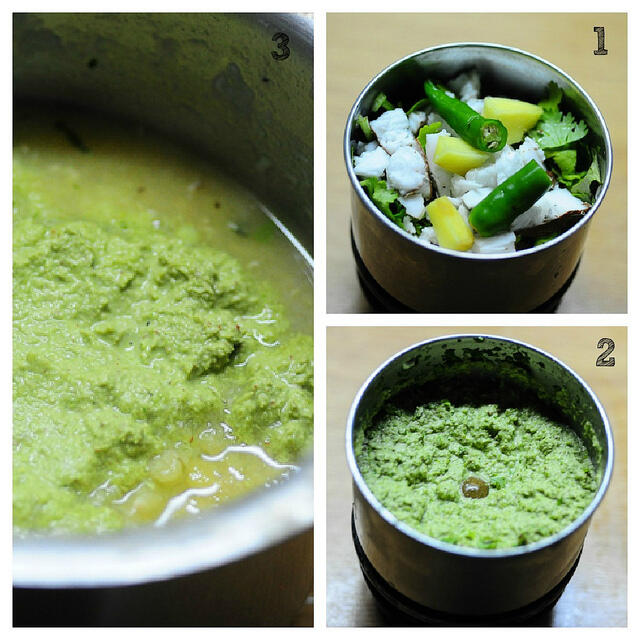 0. Pressure cook both the dals with enough water until soft. The toor dal will be cooked soft while the channa dal will be soft but most of it will retain its shape. This is perfect. Mash it up a bit.
1, 2. Grind together the ingredients for the paste with a little water until smooth.
3. Add this paste to the cooked dals and set aside.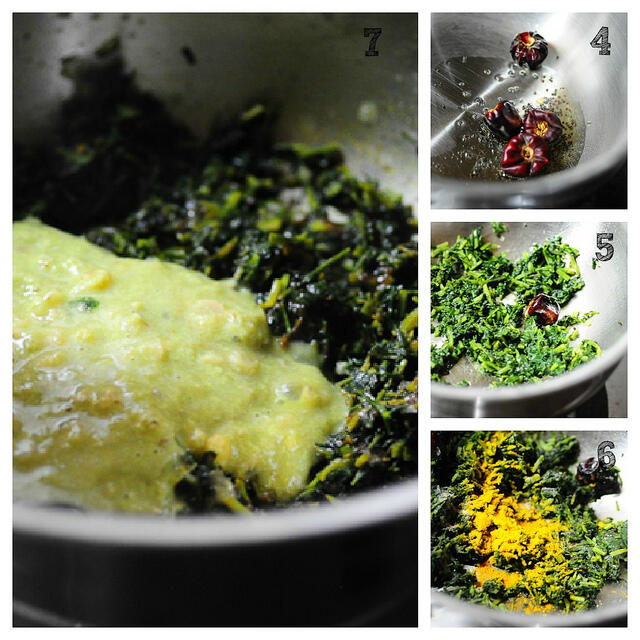 4. Heat the oil for tempering in a large kadai / pan and add the mustard seeds, hing, and red chillies.
5. When the mustard seeds pop, add chopped methi leaves and stir well.
6. When the leaves start to wilt and give out a nice fragrance (in about 3-4 mins), add the turmeric powder and mix well.
7. To this, add the dal-paste mixture and mix well. Add tamarind paste and salt.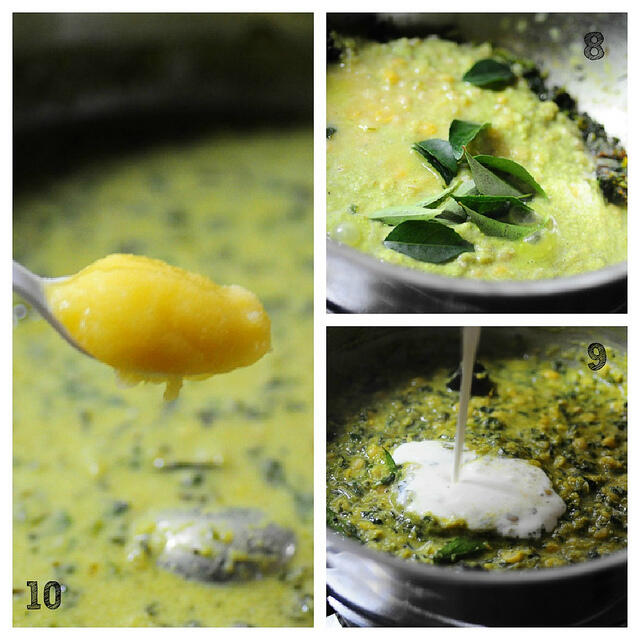 8. Add curry leaves, mix well. Let the mixture simmer for a few mins.
9. Now add the diluted yogurt mixture and stir well until the curry is heated all the way through. No need to boil beyond this point. Check for salt and adjust if needed.
10. Turn off the flame, add the ghee to the mixture and stir well to combine. Remove from fire.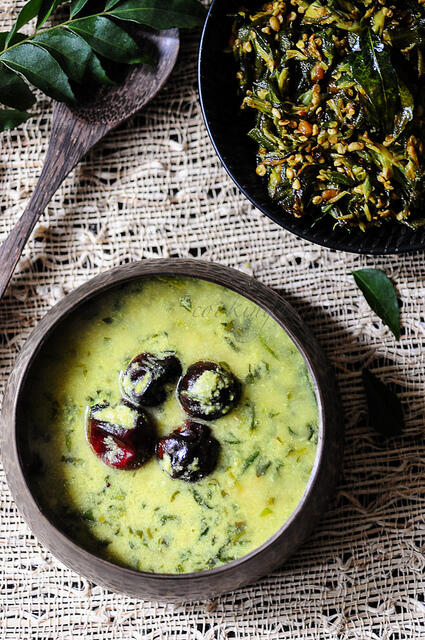 Serve warm with rice and any curry of choice. I made a simple okra fry to go with this.
The combination of lentils, yogurt, and methi leaves is really amazing in this curry. It does take longer than the usual curries I make (I prefer to spend as little time in the kitchen as possible) but the extra time is totally worth it!
Try it!
UPDATE: a lot of you emailed and commented asking about the bowl I have used in the picture. It's from FabIndia and costs Rs. 750. I bought it about a year back so not sure of availability now. I also used it in my Punjabi Chole Masala Recipe 🙂