I am quite a collector of paneer recipes and they are the most popular category on this blog. Something about this milky, hard, omnipresent Indian cheese makes me weak in the knees and although I don't necessarily order it every single time we go out for Indian food, TH and I love it.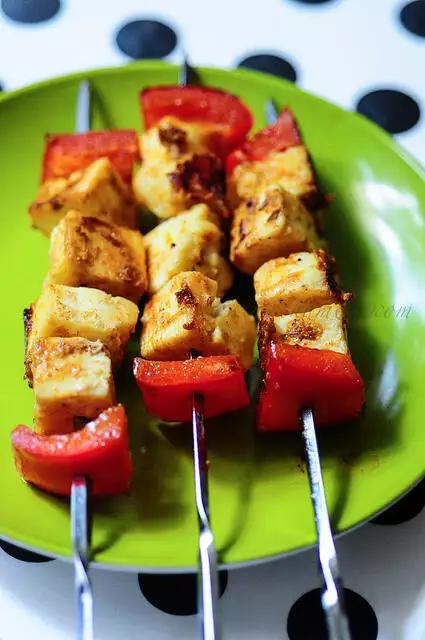 There are certain dishes I like to leave to restaurants simply because they are better equipped to do the job. Most tandoori dishes fall into this category because nothing really beats a tandoori naan or a chicken kabab or paneer tikkas that are made in a tandoor.
So these paneer tikkas are not really restaurant-style but they do make a great paneer starter, are relatively quick to make, and for a great base for Paneer Tikka Masala, which is one of my absolute favourite paneer dishes.
Paneer Tikka | Tandoori Paneer Tikka on Stove Top
Preparation time: 45 minutes
Cooking time: 10 minutes
Serves 4
Ingredients:
16 paneer cubes, thawed if using frozen or make your own paneer
1 tsp of Kashmiri chilli powder
1/4 tsp of turmeric powder
1/4 tsp of crushed jeera / cumin seeds
1 tsp of coriander powder (optional)
1 tsp of tandoori masala (see notes)
2-3 tbsp of thick, plain yogurt
Salt to taste
1-2 tsp of oil
A few pieces of cubed capsicum (bell pepper), onion, deseeded tomato, etc according to your preference
How I Made It:
1. Mix all the ingredients except oil in a bowl and leave to marinate for at least 30 mins.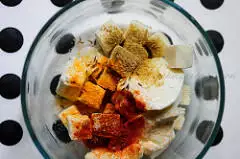 2. Skewer the paneer cubes along with whatever other vegetables you are using. I used red bell pepper.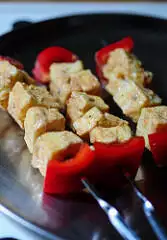 3. Heat a tawa or griddle or wide pan on medium-high heat and grease with 1 tsp oil. Don't use too much oil, we want the paneer cubes to be charred and cooked, not fried.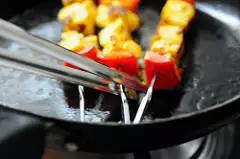 4. Using tongs, keep turning the skewers around every 2 mins or so until all the sides are evenly browned.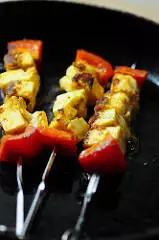 Remove from fire and serve hot with green mint chutney or tomato sauce and lemon wedges.
Alternate Method:
If you don't cut the paneer cubes and the bell pepper in the same size, it's hard to get them uniformly browned so I tried adding the marinated paneer pieces and vegetables directly to a pan and cook it first before skewering them. This worked out better in my opinion although I didn't get the half-burnt-half-cooked look you get when cooking it directly on the skewer.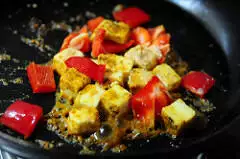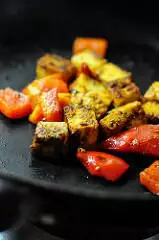 Go with whichever method makes you happy. The taste is not significantly different.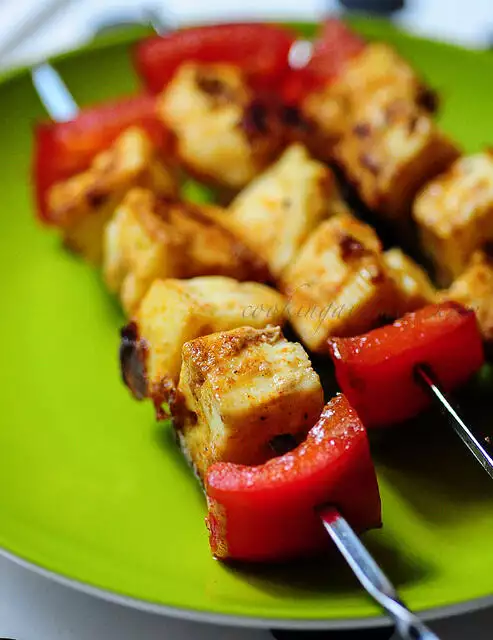 Notes:
– You can substitute the tandoori masala with chaat masala or garam masala. I tried with chaat masala once but wasn't happy with the flavour. Tandoori masala has a smoky flavour which makes paneer tikka taste that much better.
– If making your own paneer, keep the marinating paneer pieces in the refrigerator to make cooking and threading on the skewers easier.
– If you don't have steel skewers, you can use wooden skewers or even toothpicks. Make sure you dampen the wooden skewers or toothpicks before using to avoid the wood burning.
– You can marinate the vegetables along with the paneer mixture if you prefer.
– Keep the heat on medium-high and use oil sparingly to get the charred surface. Adding too much oil will result in paneer fry and not paneer tikka!
– This is a great vegetarian barbecue recipe idea which a lot of readers have emailed me for. You can use the same marinade for fish or chicken if you like too.
– Using Kashmiri chilli powder gives a more reddish tinge to the paneer tikka. Some people use red food colour and restaurants mostly do but I prefer not to use food colour unless I absolutely have to. If using regular chilli powder, reduce quantity since it will be hotter than Kashmiri chilli powder.
– You can add ginger garlic paste to the marinade if you'd like some extra flavour.