Kerala Appam Recipe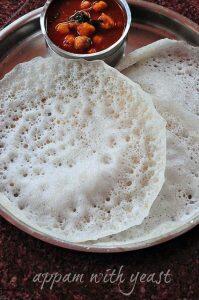 2 cups raw rice
3 cups grated coconut (or 4 cups coconut milk)
½ tsp instant yeast (or 1 tsp active dry)
2 tbsp sugar
Salt to taste
Soak 2 cups of raw rice for 1-1.5 hours.
In the meantime, prepare your coconut milk if you are making it fresh. Start with 3 cups of grated coconut and add enough water to extract 4 cups coconut milk from this.
Reserve 1 cup coconut milk aside. Add the remaining to the soaked raw rice and grind to a smooth paste. You can use a wet grinder or a blender/food processor. If you feel the quantity of coconut milk is not enough to grind the rice, add required amount of water.
Once the rice mixture is smooth, take 2 tablespoon of it and add to the reserved coconut milk + 1 more cup of water. Bring this mixture to boil and let it thicken into a paste. Let it cool down completely.
Once that mixture is completely cooled, turn your blender/grinder back on and add it to the ground rice flour mixture along with ½ tsp instant yeast (1 tsp if using active dry or any other kind) and grind for another couple minutes.
Transfer batter to a vessel and keep covered at room temperature (between 26C to 32C) for about 4 hours and then refrigerate until you need it.
Before cooking the appam, add salt to taste and 2 tbsp sugar as soon as it's out of the fridge. If the batter is too thick, add water to bring it to the right consistency and let it come to room temperature before use.
Appam batter should be quite light so that when you use the swirling technique, the edges are light and crisp. If your batter is thicker, you get appam of more uniform thickness and sponginess. We like it somewhere in between, as can you see the pics above
Remember to cook covered until the appam is cooked through and spongy. There's no need to flip them. Keep flame medium-low at all times.
It's best to use up all the batter once you have added salt and sugar. If you keep the batter, it will ferment further and turn too sour after a point.