Puliyodharai recipe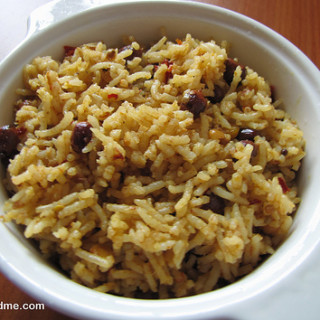 Long-grained rice - 1.5 cups (I used basmati rice)
Turmeric powder - ¼ tsp
Grated jaggery - 1 tbsp
Salt - ½ tsp or to taste
Tamarind - a large lime-sized ball
Fenugreek seeds / methi / menthayam / uluva - ¾ tsp
Coriander seeds - 1 tbsp
Dry red chillies - 6 or to taste
Salt - ½ tsp or to taste
Grated coconut - 2 tbsp
White sesame seeds - 1 tbsp (optional)
Sesame seed oil / nallennai / gingelly oil - 3-4 tbsp
Mustard seeds - 1 tsp
Asafoetida powder / hing / kaayam - ½ tsp
Dry red chillies - 2, halved
Urad dal / ulutham paruppu / uzhunnu parippu - 1 tsp
Chana dal / bengal gram / kadala parippu - 1 tsp
Curry leaves - a few
Sesame seed oil - 2 tbsp (optional, add if you find the rice too dry)
Roasted peanuts - ¼ cup
Wash and soak the rice in 4 cups water for half an hour. Rinse. Cook in an open, thick-bottomed vessel with 4 cups water (add more if it's not enough while cooking) until the rice is cooked yet not too soft.
Transfer to a colander and let it drip off the excess water. I have found this to be the best way to cook basmati rice since pressure cooking it either makes it under cooked or too mushy.
Soak tamarind and salt for tamarind paste in ½ cup water for 15 mins.
Soak fenugreek seeds, coriander seeds and red chillies in ½ cup water for 15 mins. Drain well. Do all the soaking simultaneously to save time.
Heat a frying pan and roast the coconut (don't add any oil) till it turns a light brown colour. 6. Remove and roast the sesame seeds (if using) until they start spluttering and turn golden brown. 6. Mix together with the coconut and grind to a fine powder. Keep aside.
In the same grinder, combine all ingredients for tamarind paste and grind to a fine paste.
Heat 3-4 tbsp gingelly oil in the same pan and fry the peanuts until crisp. Drain and set aside.
Add the ingredients for tempering to the same oil. When the mustard seeds start spluttering, add tamarind paste, jaggery, salt, turmeric and ½ - 1 cup water.
Mix well and simmer till all water has evaporated and the mixture has a jam-like consistency. Remove.
Place rice in a large bowl and gradually blend in the tamarind paste. Sprinkle in spice powder and mix well. Check and adjust salt.
Add more oil if needed and mix in the roasted peanuts.