Chilli soya chunks recipe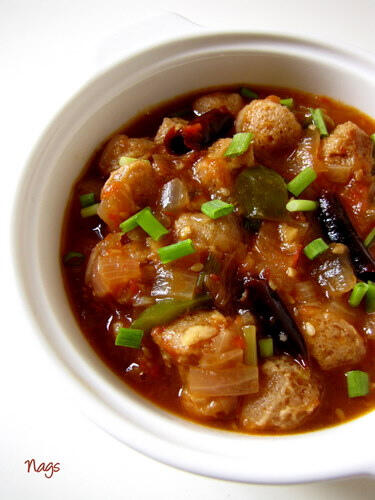 Recipe type:
Vegetarian Sides
1 cup uncooked Soya Chunks or Meal Maker
1 onion, chopped into rough squares
1 large tomato, pureed
2 green chillies (I used Thai chilli padi)
1 small capsicum, cut into squares
2 tbsp ginger garlic paste (I used freshly minced ginger and garlic)
6 dry red chillies (adjust to taste)
2 tbsp soya sauce
1 tbsp tomato sauce/ketchup/hot and sweet sauce
2 tbsp oil
Spring onions or scallions for garnishing
Salt to taste
Boil about 4 cups of water and add about ½ tsp salt and the soya chunks to it. Keep closed and let it soak for 30 mins.
Heat the oil in a pan and add the dry red chillies. To this, add the onions, capsicum, green chillies and ginger-garlic mixture. Fry for 2-3 mins on medium heat until the red chillies turn brown and the onions get transparent.
Drain the soaked chunks and reserve the water. Squeeze them gently to remove excess water and add to the pan. Add salt and toss well, letting it cook for about 5 mins and until well combined.
In the reserved water (adjust to get 1.5 cups water, adding more plain water if required), add the soya sauce, pureed tomato and tomato sauce. Mix well.
Turn the heat to high and add this to the pan with the soya nuggets. Mix well on high for 30 seconds and then lower the heat to medium-low. Cook closed for 8-10 mins.
Garnish with the spring onions and serve with fried rice or noodles. I served with rotis and that went pretty well too.
Recipe by
Edible Garden
at https://www.cookingandme.com/2009/07/20/chilli-soya-chunks-meal-maker-recipe/