Tomato Spinach Pulao Recipe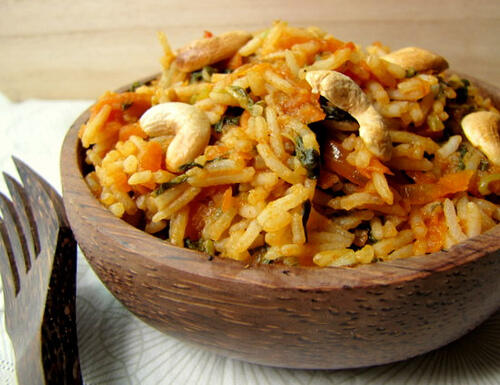 3 cups cooked rice
4 cups chopped green spinach
1 grated carrot
2 chopped tomatoes
1 tbsp tomato paste (or add another tomato)
1 sliced onion
3 cloves chopped garlic
1 tbsp coriander powder / malli podi / dania powder
1 tsp jeera / jeerakam / cumin seeds
2 tsp red chilly powder
1 tbsb oil
Roasted cashew nuts to garnish (optional)
Salt to taste
Heat oil and fry the onions and garlic for 3 mins. Add the tomatoes to this and cook well until soft and mashed.
Add the coriander powder, cumin and red chilly powder. Mix well and fry for 2 mins.
Add tomato paste to this, if using, and mix well.
Add chopped spinach and grated carrot.
Close and cook for 10 mins until soft.
Add salt and cooked rice to this. Fold gently and serve after 3o mins, garnished with roasted cashew nuts.
Serve tomato spinach pulao hot with papad or chips and raita.
Recipe by
Edible Garden
at https://www.cookingandme.com/2009/08/26/tomato-spinach-pulao-step-by-step/