Vegetable Burger Recipe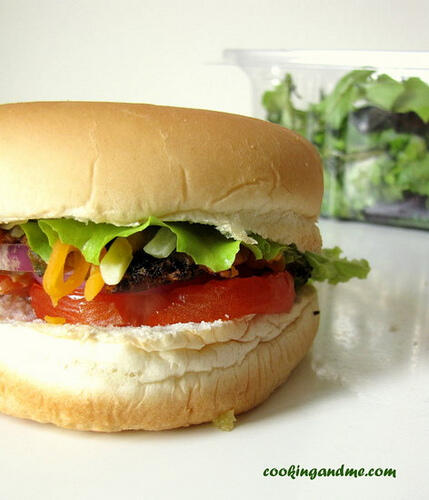 4 burger buns
2 cups of baby greens or lettuce
4 cheese slices or shredded cheddar cheese
2 tbsp mayo (any kind)
Half an onion, cut into rings
One tomato, sliced into circles
1 large potato
1 onion
1 carrot
10 French beans
¼ cup green peas
¼ cup sweet corn
2 green chillies or 1 tsp red chilli powder
Fresh coriander leaves
1 tsp jeera / cumin seeds
1 tsp masala powder or garam masala (any kind)
6 tbsp oil to shallow fry
Salt
2 large potatoes
Salt
Oil to deep fry
First, boil all the vegetables, except onion, until soft. Pressure cooking them or boiling them should do the trick. Make sure you cook the potatoes separately.
Mash up the potato real nice.
Cut the other vegetables into tiny pieces.
Mix in salt, cumin seeds, green chillies/red chilli powder, chopped coriander leaves and the masala powder.
Shape into large patties.
Shallow fry the patties until golden brown on both sides. Set aside.
We start with a burger bun, of course. Cut it into half. Hopefully you can do a better job of cutting it evenly than I did.
Grab a box of baby greens or any lettuce
Lay it out on the lower half of the burger bun.
Top it off with some shredded cheddar cheese or one cheese slice.
Take one vegetable patty and place it on the cheese and greens, pressing down gently without crumbling it.
Spread some mayo over this
Next, layer onion rings and tomato slices over this
Now bring in the other half of the burger, place it on the pile and press down gently.
You can use a toothpick inserted through the center to hold it all together. Serve when the patty is still warm.