South Indian tomato chutney recipe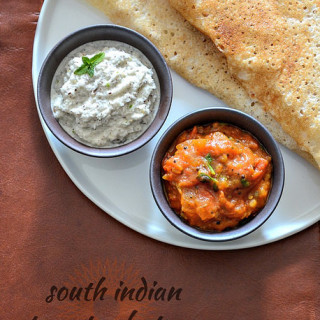 3 cups of chopped, ripe tomatoes (about 3 large tomatoes)
1 tsp freshly cracked black pepper (adjust to taste)
½ tsp of black mustard seeds
1 tsp cumin seeds (jeera)
1 tbsp ghee
A pinch of turmeric powder
4 tbsp of chopped, fresh coriander leaves (cilantro)
Salt to taste
Heat the ghee in pan (I used non-stick and it worked well) and add the mustard seeds. When they begin to pop, add the cumin seeds and let them sizzle and turn a shade darker.
Add the tomatoes and mix well to combine. I'd recommend chopping the tomatoes finer than you see in the picture below so that it cooks faster. Let the tomatoes cook until it starts to soften, stirring now and then.
Add ¼ cup water to this and continue to cook on a low flame.
In about 4 mins or so, you'll find that the tomatoes start turning to a mush, the skin separating from the flesh. Most of the water would have evaporated by now too.
Add the turmeric powder and salt at this stage and mix well.
Then add the pepper powder and chopped coriander. Continue to cook for another 3-4 mins until the chutney becomes thicker and most of the water has evaporated.
You can cook further for a thicker chutney but I stopped at this stage to serve with dosa.
Recipe by
Edible Garden
at https://www.cookingandme.com/2014/08/05/tomato-chutney-recipe-thakkali-chutney/