Masala Paniyaram Recipe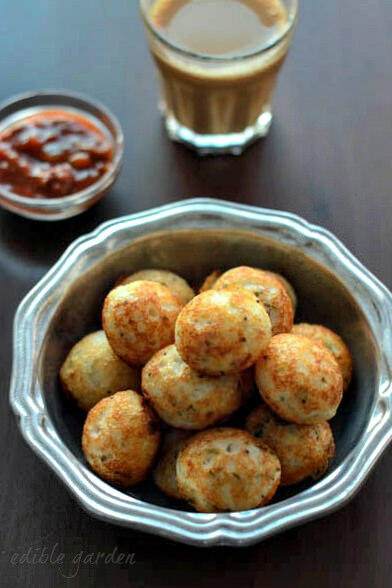 2.5 cups of dosa or idli batter
1.5 tsp of oil
¼ tsp of mustard seeds
A generous pinch of hing (asafoetida)
2 tbsp of chopped onions or shallots (chinna vengayam)
2 tbsp of grated coconut (optional)
2 tbsp of chopped coriander leaves or curry leaves
4-5 tbsp of Indian sesame oil, for cooking
Salt to taste
Heat the 1.5 tsp oil and add the mustard seeds. When they pop, add the hing and chopped onions or shallots. Fry until light golden brown.
Turn off heat and add the coconut, if using.
Let the coconut get lightly toasted in the remaining heat and add to the dosa batter along with the chopped coriander leaves and salt to taste.
Mix well and set aside. The batter shouldn't be too runny, the consistency of batter for making idli is perfect.
Heat the paniyaram pan and fill the each hole up to ⅓ with oil. You can add a bit less if using a non-stick pan.
Once the oil is heated, pour enough batter into each hole to fill it. The oil will float to the top and spill over to the other holes. This is fine, paniyara pan is a way of deep frying the items and yet retaining the shape perfectly.
Patience is required at this stage. On medium-low heat, cook the paniyaram for a good 3-4 mins until the bottom is nicely browned. Take care to regulate the heat properly otherwise the inside will not cook properly.
Once the top of the paniyaram has risen a bit and is no longer too runny, gently flip them with a skewer. Take care while doing this. Once all are flipped over, let the other side cook for 2-3 mins.
Once both sides are golden brown, gently remove using the skewer on to serving plates.