Tomato capsicum dal recipe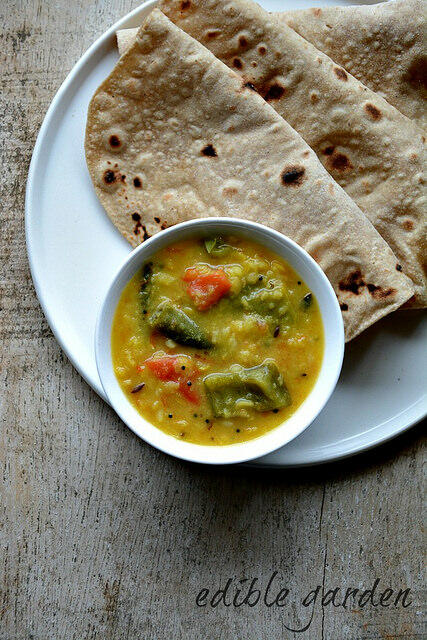 ½ cup of toor dal (tuvar dal)
2 tbsp of moong dal (split green gram)
¼ tsp of turmeric powder
½ cup of chopped, ripe tomatoes
½ cup of cubed green capsicum (bell pepper)
1 tbsp of ghee or oil
1 tsp of cumin seeds
½ tsp of black mustard seeds
A few curry leaves
A generous pinch of hing (asafoetida)
½ tsp of sugar or powdered jaggery (optional)
2-3 of green chilies, sliced (adjust to taste)
Salt to taste
Soak the moong dal and toor dal for about 30 minutes if you've had trouble cooking them to a mush in the past. Usually, older lentils take longer to cook.
Then, pressure cook the lentils with tomatoes, capsicum, green chillies, and turmeric for 12 mins or 4 whistles. Set aside to cool down.
Open carefully and mush the dal further with the back of a rounded spoon.
Heat the ghee or oil in a pan and add the mustard seeds.
When they pop, add the cumin seeds and let them sizzle and brown for 10 seconds.
Follow with the curry leaves and hing.
Quickly add the cooked dal to this and mix well. Add sugar, if using, and salt. If the dal is too thick at this stage, add some water and bring to boil. If the dal seems too watery, simmer it for a few minutes until it thickens.
Recipe by
Edible Garden
at https://www.cookingandme.com/2014/08/16/tomato-capsicum-dal-recipe-tomato-dal/