Naan On Tawa Recipe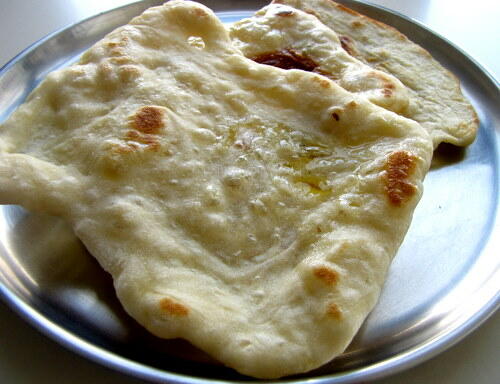 1.5 cups lukewarm water
¾ tbsp yeast
3 and ¼ cups of all purpose flour
A generous pinch of salt
Dissolve the yeast in the water. Add in salt and the flour, incorporate well until a sticky dough is formed. No kneading necessary.
Set aside covered for 20-30 mins.
Tear or cut off peach-sized amounts with a serrated knife and transfer to a floured surface. Shape into oblong naan with help of rolling pin if necessary. Make sure there are no holes in the naan once you are done rolling it out.
Heat a skillet on high heat, brush on some ghee or oil, lower the heat to medium and lay the nan on carefully.
Flip over in about 2 mins when the first side starts browning.
Cook closed for 30 seconds to a minute now, depending on the thickness of your naan.