Cheesecake truffles recipe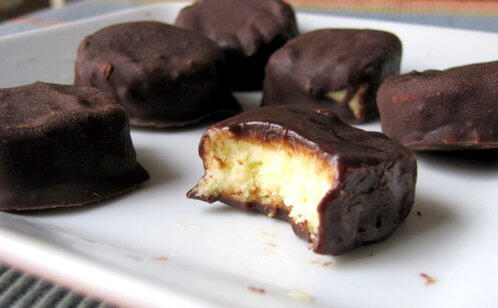 250gm cream cheese (about half a pound), softened at room temp
½ cup sugar (or a little less)
2 eggs
1 tsp vanilla extract
⅓ cup whipping cream (or normal cream)
Small pinch of salt
8 ounces of semi sweet or milk chocolate, melted
Pre-heat oven to 350F/ 180C. Line a brownie pan with parchment paper and set aside.
Whisk together all the ingredients for the cheesecake. Isn't that gorgeously simple?!
Bake for about 35-40 mins until the cake is spongy but doesn't dry and curl in from the sides.
Cool completely and don't poke it with your fingers like I did.
Using small cookie cutters or ice cream scoop, cut out small pieces of the cheesecake.
Oh by the way, don't forget to melt the chocolate and set aside to cool.
Dip the cheesecake pieces into the melted and cooled chocolate and transfer to a plate lined with parchment paper or a baking sheet (so that it doesn't stick to the plate). You can also try using a greased plate for this in case you don't have parchment paper.
Don't worry if it doesn't look that glam because the chocolate is dripping around the cheesecake pieces. Trust me and stick the plate into your freezer for about 2 hours.
Recipe by
Edible Garden
at https://www.cookingandme.com/2010/08/04/cheesecake-truffles-recipe/