South Indian Mixture Recipe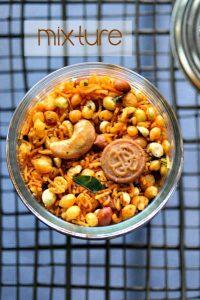 250 grams of besan (kadalai mavu)
250 grams of raw peanuts
100 grams of roasted gram (pottukadalai)
2 big bunches of fresh curry leaves, cleaned and dried completely
½ tsp of powdered hing (asafoetida)
1 tsp of chilli powder (add more for spicier version)
¼ tsp of soda powder
½ tsp of sugar
2 cups of small, round biscuits (optional)
¼ cup of roasted cashew nuts (optional)
Salt to taste
Oil for deep frying
First, divide the total amount of besan into thirds. We will use the first ⅓ quantity of besan to make the sev for mixture.
Add some salt to ⅓ of the besan and add enough water to make a thick dough like that of
idiyappam
Pass through a thin sev press into hot oil directly. Fry until golden brown, keeping the flame at medium heat.
Drain and set aside.
Use the remaining ⅔ portion of reserved besan and add some salt and a generous pinch (about ¼ tsp) of soda powder to this. Mix well and add enough water to make a loose batter like that of
dosa batter
Making sure that the oil is smoking hot, hold a boondi ladle over the oil and gently pour a thin layer of batter into the ladle.
Do not tap or move the ladle too much, otherwise the boondis will lose shape. If the boondies are not perfectly round, that means the consistency of the batter is wrong. If you get flat boondi, then the batter is too watery so add a bit more besan. If you get tailed boondi, then your batter needs more water so adjust accordingly.
Fry the boondi until golden brown on medium heat and drain.
Add to the sev that has been set aside.
Using a large slotted spoon, fry the peanuts, roasted gram, biscuits (if using), and curry leaves on medium-low heat.
The peanuts need to get roasted properly, so make sure they are a dark brown
The roasted gram won't change colour much so just fry for about a minute or so.
The curry leaves will splutter and burst a bit so take care while doing this. It's better to fry with the leaves on the stalk so that it's easier to drain.
Add all these fried items to the sev and boondi already made.
While everything is still hot, add the chilli powder and hing.
Mix together well and break up the sev and curry leaves into smaller pieces as you do so.
Add the roasted cashew nuts at this stage too, if using.
The ingredients should be mixed while hot itself. We did this on a large sheet of brown wax paper which also absorbed the excess oil.
Transfer to a large bowl and let the mixture cool completely before storing in airtight containers.
Recipe by
Edible Garden
at https://www.cookingandme.com/2014/10/20/south-indian-mixture-recipe/