Stir fried chicken with broccoli and bell pepper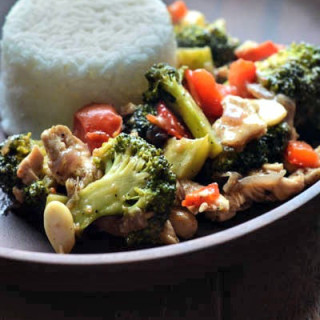 100 gm of chicken strips or chicken breast cut into long strips
2 cups of broccoli florets
1 cup of bell pepper, cut into cubes (any colour)
A fistful of almonds, cashew nuts, anything you'd like (optional)
½ cup of chopped onions
2 tsp of corn flour (corn starch)
2 tbsp of oil (I used rice bran oil)
1 tsp of vinegar
2 tsp of soya sauce
1 tsp of minced garlic
1 tsp of corn flour (corn starch)
½ tsp of chilli powder (or to taste)
½ tsp of black pepper powder
Add the corn starch, pepper powder, chilli powder, some salt, garlic, soya sauce, vinegar, and chicken pieces to a bowl. Add about 1-2 tbsp water to bring everything together, mix well, and set aside while you chop the vegetables and prepare the other ingredients. You don't need to marinate a lot, 10 mins is plenty.
Heat oil in a wok or non stick pan and add the onions. Keeping flame on medium, cook until the onions turn soft. I also added a few pieces of garlic at this stage but this is optional.
Next, add the broccoli florets and bell pepper. Mix well to combine.
Then add the marinated chicken pieces and mix well again. Lower heat to medium-low and cook, stirring frequently until the chicken is cooked through. The time it takes to cook will depend on how thinly you cut them. I'd recommend keeping the strips about ½" thick since that would make sure it cooks fast but if you cut them too small, then on cooking the meat will shrink further and turn the chicken into an almost-minced stage. That won't be fun in a stir-fry, I think.
OK so once the chicken seems cooked through, add the nuts (I added soaked and skinned almonds) if you want to use any and give a quick mix. Also add more salt if, needed, at this stage,
Now the final step. Do this only after ensuring your vegetables and chicken are cooked fully and you have adjust salt, pepper, chilli, etc.
Mix 2 tsp cornflour in ¼ cup water and add to the above. Keeping flame low, mix throughly and remove from heat. The mixture will look watery but it will thicken quite a bit on cooling. This will give you some delicious gravy when it cools down.
All done!
Recipe by
Edible Garden
at https://www.cookingandme.com/2014/11/17/easy-chicken-broccoli-stir-fry-recipe/