Aloo Paratha Recipe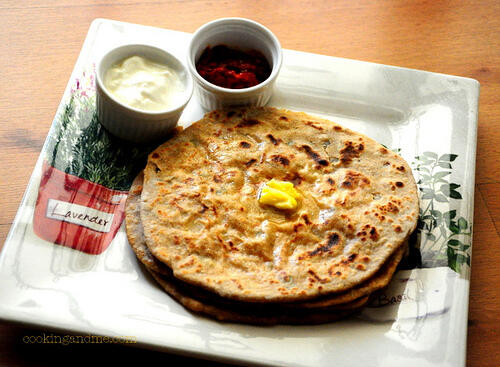 2 cups atta / whole wheat flour
Just over ½ cup water
1 tsp salt (or to taste)
A few drops of oil
2 medium sized potatoes
1 tsp red chilli powder
½ tsp jeera / cumin powder
¼ tsp ajwain / omam / carom seeds
½ tsp chaat masala (or garam masala)
½ tsp salt
A handful of coriander leaves, chopped fine
Mix the atta and salt well together. Add a few drops of oil and mix with fingertips.
Add water little at a time and keep kneading into a soft dough.
Knead for 3-4 mins and coat with some more oil (don't overdo the oil bit, very few drops will do). Set aside while making the filling.
To prepare aloo paratha filling:
Boil and grate the potatoes. I used to mash them but that leaves small lumps here and there making it harder to roll out the aloo parathas smoothly. Grating is a better method to ensure a smooth filling.
Mix all ingredients for the filling together, making sure they are well incorporated.
The spices you add to the filling also make a large difference to the taste of your aloo parathas. There are tons of different versions here.
Divide the dough into 8 equal parts and roll into smooth balls. Do the same with the filling. I like to make the size of the filling slightly smaller than the dough balls but you can make them into equal sizes if you wish.
Flour the surface you are going to use to roll the parathas.
Take one dough ball, place it on the floured surface and flatten with fingertips into a small round. I find that doing this with my fingertips makes it easier to get the surface equally thick than rolling with a rolling pin.
Place a ball of potato filling in the centre of the flattened dough ball.
Gather the dough ball around the filling, sealing it gently on top.
Make it into a momo-like ball, making sure that the dough covers the filling ball completely.
You can pinch off the extra bit of dough on top. I sometimes just flatten it against the top and continue.
Again, using your fingertips, gently press the filled dough ball into a small circle, making sure the thickness is equal on all sides.
Then use your rolling pin to flatten it out to as thick or thin as you want. I keep it slightly thicker than chapatis.
Transfer rolled paratha to a hot griddle. Make sure you tap out the excess flour used in rolling.
Cook until both sides are golden brown.
When done, brush with some ghee / butter or oil and transfer to a plate.
Serve aloo paratha hot with a pat of butter on top, some curd and pickles.