Peas pulao recipe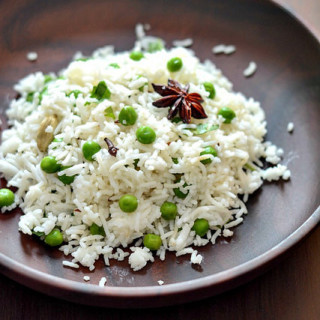 4 cups of cooked rice
1 cup of green peas, fresh or frozen
2 tbsp of ghee
1 tsp of cumin seeds
2" piece of cinnamon
A few cloves
2-3 green cardamom seeds
1-2 star anise
1 bay leaf
Salt to taste
Prepare the rice and set aside
Heat ghee in a pan and add all the spices.
On low heat, let the spices heat up until nice and fragrant (around 1-2 mins).
Add the peas and mixed well.
Add ¼ cup water and cook covered until the peas are soft.
Now add the cooked rice and salt.
Mix well until all the ingredients are well combined.
Keep covered until ready to serve.
Soak 2 cups uncooked basmati rice in water for 30 minutes
In a pressure pan, add the ghee and spices. Let them roast until fragrant
Now add the peas and soaked rice along with required amount of salt
Top up with about 4.5 cups water and close the pressure cooker lid
Cook for 20 minutes or until the cooker whistles twice
Turn off heat and wait for the pressure to leave the cooker
Gently mix the rice when still warm and set aside until ready to serve
Soak 2 cups uncooked basmati rice in water for 30 minutes
In a pan, add the ghee and roast all the spices
Transfer this ghee and spice mixture to the rice cooker vessel and add the peas, uncooked rice, and salt
Add 4.5 cups water (or the usual amount you use in your rice cooker to cook rice)
Cook until done. This is usually automatically indicated in a rice cooker