Tomato Juice Rasam Recipe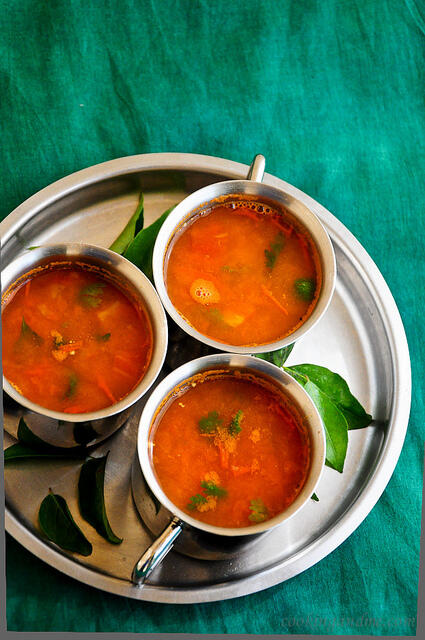 5-6 ripe tomatoes
½ cup cooked, mashed toor dal (about ¼ cup uncooked)
1 heaping teaspoon rasam powder
A generous pinch of hing / asafoetida / perungaayam
A pinch of turmeric
½ tsp jeera / cumin seeds pounded in a pestle and mortar or coarsely ground in a spice grinder
¼ tsp freshly cracked black pepper
Salt to taste
Pressure cook the toor dal with enough water until soft and mushy. Mash further with a potato masher to remove any lumps. Set aside.
Chop the tomatoes in small pieces, place in the pan, and add enough water to cover it by an inch.
Add turmeric, sambar powder, hing, and salt and boil for about 15-20 mins until the tomatoes turn soft.
Then, take out the chunky pieces and blend to a smooth paste and return it to the rest of the cooked tomato mixture along with the dal.
Add about 1 to 2 cups more water until rasam reaches the right consistency (not too watery but more soup-like).
Add pepper and cumin powder, bring to boil, and remove from heat.
Garnish with chopped coriander leaves (or you can add curry leaves when you add dal).
Note that my MIL does not temper this rasam but if you'd like to, heat some ghee / oil in a small pan, add mustard seeds and they pop, dunk into the rasam at the final stage.
Recipe by
Edible Garden
at https://www.cookingandme.com/2011/08/15/tomato-juice-rasam-recipe/