Paal Vadai Recipe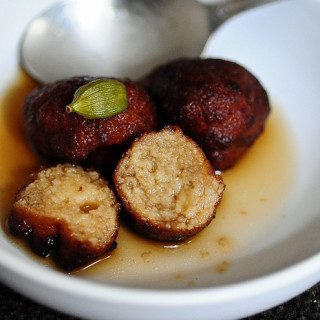 1 cup of skinned, whole urad dal / ulutham paruppu
A pinch of salt
2-3 cups of milk (more or less)
5 tbsp of grated jaggery (or brown sugar)
10-12 tbsp of water
1 pod of cardamom
Soak the urad dal in enough water to cover it by 3 inches for about 1 to 2 hours.
Grind the soaked dal with enough added milk to make a thick, custard-like batter. It should have the consistency of the batter you would grind for medhu vada. Add salt and mix well.
Heat oil to almost smoking point and add small quantities of batter into it. No need to shape them, just make them into small lime-sized balls.
Fry until golden brown and drain on kitchen towels.
For jaggery syrup, mix the jaggery and water and bring to boil. Peel and add the cardamom pod, including the skin.
Remove the syrup from fire and dunk the fried urad balls in. Keep covered and let it soak well.
That's it! Serve warm or at room temperature.