Eggless Blueberry Cheesecake Ice Cream Recipe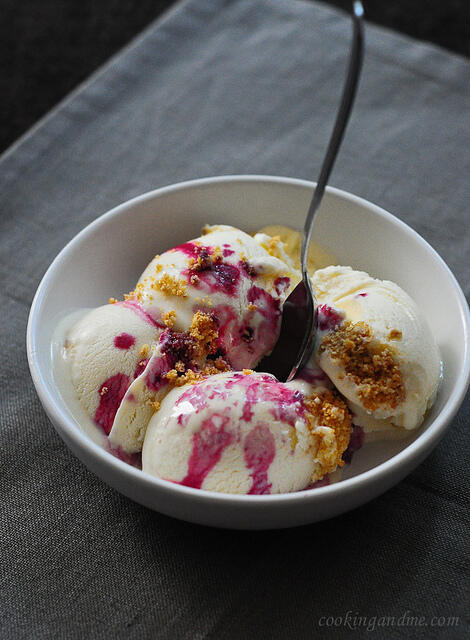 10 oz / 280gm / 1 block of cream cheese softened to room temperature (low fat version works too)
1 cup of white sugar
A pinch of salt
⅓ cup of mascarpone cheese at room temperature
1 cup of milk (whole milk is better)
1 tsp of vanilla extract
¼ cup of sour cream, at room temperature
6-8 graham crackers or digestive biscuits
2 tsp of melted butter
A few blueberries (or any fruit of choice), to serve
Whisk 10 oz or 280gm cream cheese until fluffy (about 2 mins). Make sure you leave it out to soften to room temperature
Add 1 cup granulated white sugar and whisk again until well combined.
Next, add ⅓ cup mascarpone, a cup of milk, 1 tsp vanilla, and ¼ cup sour cream.
Beat well until the ingredients combine together. You can also beat after each addition, but I just did it in one go. Ensure it is lump-free before proceeding.
Pour the mixture into a bowl. Cover lightly and refrigerate (don't freeze) for at least 2 hours or overnight.
When the mixture is ready, bring out your ice cream maker. You need to prep it according to the manufacturer's instructions. I used my KitchenAid ice cream maker attachment. The bowl needs to be frozen for 12 hours so I had to do that before I could churn the ice cream.
Pour the prepared ice cream mixture into the bowl and churn for the required amount of time. In mine, it took about 20 mins or so.
When done, the mixture will resemble thick custard. Lick it now and test for sweetness. Or, just lick it anyway. YUM!
While the ice cream is churning, lightly process the graham crackers with melted butter until the mixture resembles moist bread crumbs. You can do this in a mixer but make sure to use the pulse option. Don't powder the crackers too fine.
Press some of this mixture firmly to the bottom of a freezer safe bowl. Then pour ⅓rd of the ice cream mixture over it.
Press some graham cracker mixture between your fingers and drop them over this mixture randomly. These will show up when you scoop the ice cream and adds texture.
Keep going until the ice cream custard and the cracker crumbs are all gone. Freeze overnight.
Serve chilled with crushed blueberries on top.
Recipe by
Edible Garden
at https://www.cookingandme.com/2011/11/07/eggless-blueberry-cheesecake-ice-cream/