Orange Cake Recipe with Toffee Sauce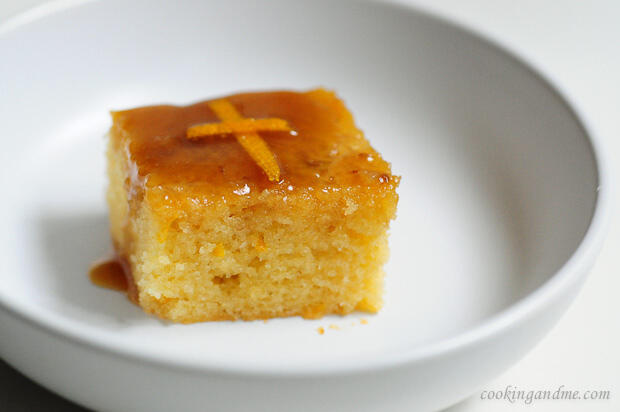 1.5 cups regular flour
1 cup sugar
2 tsp baking powder
½ tsp salt
3 eggs at room temperature
1 cup sour cream
½ cup vegetable oil
2 tsp fresh orange zest
½ tsp vanilla extract
½ cup packed brown sugar
⅛ tsp salt
½ cup cream (I use whipping cream)
6 tbsp butter, cut into small pieces
1 tsp vanilla extract
Pre-heat oven to 350F / 180C.
In a large bowl, whisk together flour, sugar, baking powder and salt.
Add eggs, sour cream, oil, orange zest and vanilla to the flour mixture.
Using an electric blender on med-low speed, beat for 1 min, until blended. Scrap sides and bottom, beat on med. speed for 1 min. If beating by hand, do it briskly in one direction for about 3-4 mins until well blended and you can't see traces of flour sticking out.
Spread batter in greased cake pan or loaf pan.
Bake at 350F / 180C for 50-55min. Let cool in the pan for 10mins.
Poke holes all over warm cake with a fork and pour the toffee sauce over it. Cool completely before cutting and serving.
In a pan, combine sugar, cream, salt and butter
Bring to a boil whisking continuously.
Reduce heat and simmer whisking for 2mins till sugar is dissolved.
Remove from heat and whisk in the vanilla extract.
Let it cool for 5mins or till slightly thickened.
Pour over cake while still warm.
Recipe by
Edible Garden
at https://www.cookingandme.com/2011/12/12/orange-fruit-cake-with-toffee-sauce/