Kerala Peas Masala Recipe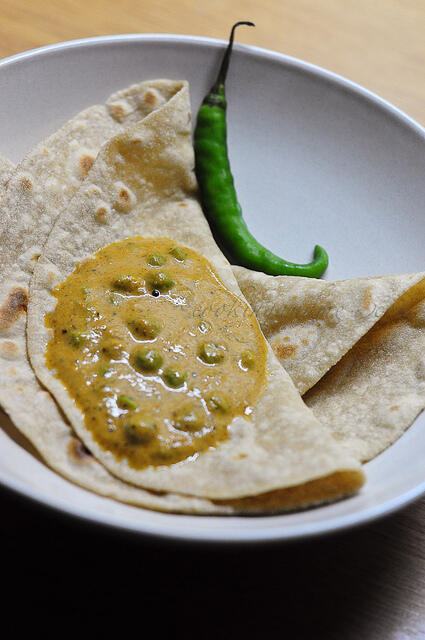 Recipe type:
Vegetarian Sides
2 cups of shelled peas, fresh or frozen (thawed)
2 tbsp of coriander seeds
3 dry red chillies
2 tsp oil
¼ tsp of turmeric powder
2 large onions, chopped
2 tomatoes, chopped
2 cloves of garlic
A small piece of ginger
1 cup of thick coconut milk
1 tsp of garam masala or any curry powder
Salt to taste
1 tbsp coconut oil (or any oil you prefer)
¼ tsp mustard seeds
A few curry leaves
In a small pan, heat 1 tsp oil and fry the coriander seeds and red chillies until nicely browned. Take care not to burn it and set aside to cool.
In a larger pan, heat another tsp of oil and add the chopped onions.
Once they brown, add the tomatoes, garlic and ginger. Saute some more until the mixture cooks up and looks mushy - about 4-5 mins.
Remove from fire, transfer to a bowl and set aside to cool.
In the same pan, add the peas and enough water to cover it completely.
Add the turmeric powder and bring to boil, then lower fire to a simmer.
Grind the roasted coriander-chilli mixture with some water (just to get it ground up nicely, doesn't need to be a super smooth paste) and add to the peas.
Mix well and continue to cook on low flame.
In the same mixer jar you used for the coriander-chilli mixture, grind the onion mixture to a smooth paste. Don't add water this time
Add this paste to the peas and continue to cook for another 5 mins or until the peas are cooked and turn mushy when you apply pressure. Don't overcook them though.
Add the coconut milk next along with salt. Mix and let it come to boil.
As soon as it comes to boil, add the garam masala or any curry powder you like and remove from heat.
Heat the coconut oil in a small pan and add the mustard seeds and curry leaves.
When the mustard seeds start to pop, add to the cooked peas curry and mix well.
Serve hot with chapati, roti, appam, nan, idiyappam, dosa, etc
Recipe by
Edible Garden
at https://www.cookingandme.com/2012/03/15/kerala-style-peas-masala-recipe/