Lauki Kofta Recipe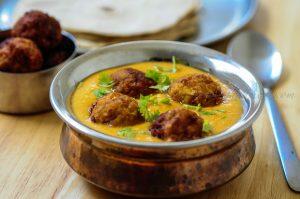 Recipe type:
Vegetarian Sides
1 medium-sized lauki / doodhi / bottle gourd
4-5 tbsp of besan / gram flour
½ tsp of red chilli powder
A pinch of hing / asafoetida
8 tiny pieces of tamarind (optional)
½ tsp of salt (or to taste)
Oil for deep frying
2 tbsp of oil (just take a bit from the oil you used to deep fry koftas)
2 of onions, sliced
3 of tomatoes, chopped
¼ tsp of turmeric powder
2 tbsp of coriander powder
1 tsp of red chilli powder (adjust to taste)
Fresh coriander leaves for garnishing
Salt to taste
4-5 tbsp of plain curd/yogurt
Quarter the lauki and peel it. Remove the seeds inside and grate it
Squeeze out all excess water and add the grated lauki to a bowl with the chilli powder, salt, besan and hing. Mix well to combine.
Make small lemon-sized balls with this mixture and make a small dent in the centre to place the tamarind.
Cover it up and make the ball smooth.
Fry in hot oil until brown all over. Keep the flame to medium hot and keep turning to cook evenly.
Drain and set aside.
Heat oil in a pan add add the sliced onions.
When they soften and start to brown around the edge, add the turmeric powder, coriander, chilli powder and salt.
Cook until the masala turns fragrant and is blended well with the onions (about 3 mins).
Add the tomatoes and about ½ cup water.
Bring to boil and simmer until the tomatoes are soft (about 5-7 mins).
Puree this mixture in a blender and return to the pan.
Bring to boil and add the yogurt and chopped coriander leaves. Mix well, adjust salt and remove from fire.
Add the koftas into the gravy and let it sit for an hour or so before serving