Chocolate peda with condensed milk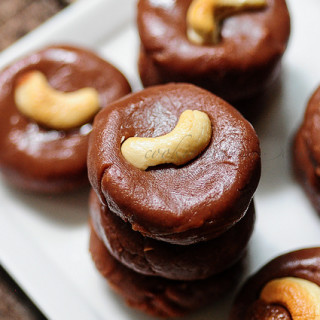 1 can (~400 gm) of condensed milk
1 cup of milk powder
⅓ cup of cocoa powder / chocolate chips / chocolate chunks
2-3 drops of vanilla extract (optional)
A pinch of salt (optional)
2 tbsp of unsalted butter
Heat a non-stick pan and add the butter. Turn the heat to simmer (very low) and wait until the butter melts completely.
Add the condensed milk...
milk powder, and
chocolate pieces or cocoa powder (whatever you are using)
, Continue to keep the flame low. Mix the ingredients gently together until they incorporate. If you are using chocolate pieces or chips, it will slowly start melting.
Continue stirring until the mixture starts to turn smooth and add the vanilla and salt. Keep mixing. The mixture will start to thicken. Don't stop mixing at any stage, otherwise the bottom will burn.
Soon - in about 3-4 mins, the mixture will be thicker and a bit harder to mix. Continue. Thank your lucky stars you are not my aunt who is making this from milk for her niece. The cooking time in that case will be at least 4 times longer!
After 5-6 more minutes of patient stirring, the mixture will be gloopy and thick and leave the sides of the pan, circling around your ladle. From this stage, continue to cook for another 2-3 mins. If you remove it too early, the chocolate peda will be fudgy and too sticky.
Once the mixture is super thick and comes around your ladle refusing to let you budge it any more, transfer to a greased plate or tray.
Pat it down with the back of your silicon spatula or wet fingertips (the mixture will be very hot!)...
and stick some chopped or whole cashew nuts in there. Let it cool completely and refrigerate for an hour.
Recipe by
Edible Garden
at https://www.cookingandme.com/2012/11/12/chocolate-peda-chocolate-burfi-diwali-sweets/