Easy fish curry recipe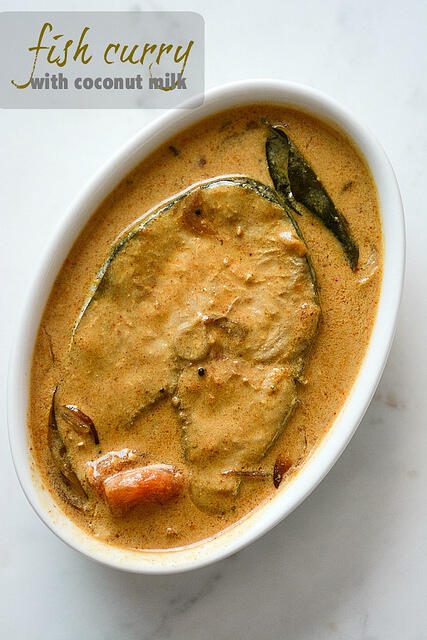 250 gm of cleaned fish pieces, cubes or fillet
1 cup of sliced onions
1 tsp of black mustard seed (optional)
2 tbsp of oil (I use coconut oil)
½ tsp of turmeric powder
1 tsp of cumin powder
2 tsp of coriander powder
½ tsp of red chilli powder
1" piece of ginger
1 tsp of red chilli powder (adjust to taste)
2 flakes of garlic
A few cubes of ripe tomato
2 cups of thick coconut milk (see notes)
A small bunch of chopped coriander leaves or curry leaves
Heat the oil and add mustard seeds (if using). Wait until they pop and then add the sliced onions.
Fry until light golden brown.
Add the spice powders - chilli, coriander, cumin, turmeric - and the ginger and garlic to the fried onions.
Sauté for 20 seconds or so or until fragrant on low heat. Take care not to burn the spices at this stage.
Add the cubed tomatoes and mix well. The riper the tomatoes, the better.
Top up with 1 cup water and the cleaned fish pieces along with some curry leaves (If using coriander leaves or cilantro, add at the end, not now). I left the fish as thin steak pieces but you can cut them into smaller cubes too.
Bring this mixture to a boil.
Cook covered for about 15 minutes or until the fish pieces are cooked.
Once done, it should look a bit like below. If there isn't enough water, you can adjust it by adding a bit with the coconut water.
Now add the coconut milk. I used thick store-bought coconut milk and this adds enough body to the gravy. If using homemade coconut milk, you may want to add lesser water in the beginning if you want to avid a watery gravy. If serving  fish curry with rice, a watery gravy is not a bad idea anyway.
Mix well and bring to a gentle simmer. Do not boil after adding the coconut milk. Add salt and remove from heat.
Add coriander leaves at this stage, if you are using them.