Crinkle Cookies Recipe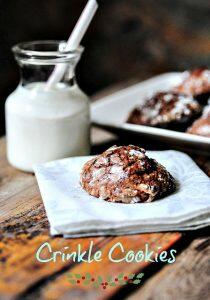 2.5 cups of flour
½ cup of unsalted butter, left out and softened to room temperature
1.75 cups of brown sugar
2 eggs, at room temperature
1 tsp of vanilla extract
⅓ cup of milk
2 tsp of baking powder
½ tsp of ground allspice or cinnamon (optional)
2.5 tbsp of cocoa powder
⅓ cup of chopped nuts (I used pecan)
⅓ cup of chocolate chips or chopped chocolate pieces
70 gm of dark chocolate (cooking chocolate)
¼ tsp of salt
1 cup of icing sugar or powdered sugar for coating
How to Make Crinkle or Crackle Cookies:
In a wide bowl, cream the butter and sugar until light. Add the eggs one by one and beat again until well incorporated. Melt the chocolate (I used the microwave). Add the melted chocolate, vanilla, and milk to the butter-sugar-egg mixture. Mix well until combined.
Sift the cocoa powder, flour, baking powder and salt together. Add the allspice or cinnamon to this, if using and whisk it well. Add this dry mixture to the wet mixture and whisk gently to combine.
Fold in the chopped nuts and chocolate chips taking care not to over mix. You will have a thick-ish batter. Refrigerate this for at least 4 hours or preferably overnight.
When you are ready to bake, pre-heat oven to 350F / 180C. Take the cookie dough one small scoopful at a time, make a ball, and drop into the icing sugar. Coat generously and place on a lined baking tray about 2" apart. I pressed the top of the dough ball down gently because my first batch of cookies domed too much.
Bake for around 25 mins until the cookie top cracks and it's soft to touch but the edges are done. Remove from oven and transfer to a cooling rack after 5 mins.
Crinkle Cookies are now ready to be enjoyed warm
Store in airtight containers when completely cooled. Stays well for up to 4 days.