Eggless Plum Cake, Eggless Fruit Cake Recipe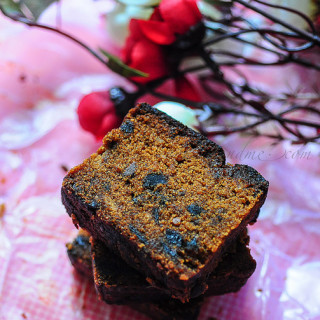 1.5 cups of all-purpose flour (maida)
½ cup of dark brown sugar (white sugar may also work but colour will be lighter)
1 cup of mixed dry fruits like raisins, sultanas, dates, cherries, tutti frutti, etc
2 tbsp of finely chopped cashew nuts
2 tsp of baking powder
1 tsp of baking soda
1 tsp of vanilla extract (or 1 tsp orange or lemon zest works better)
1 tsp of mixed spices like cinnamon, nutmeg, allspice, etc
½ cup of unsalted butter
2.5 tbsp of any neutral oil (like veg oil)
A pinch of salt
⅔ cup water
Pre-heat oven to 350F / 180C. Grease and line an 8" cake pan or muffin tray / mini loaf pan, whatever you prefer.
Bring the water to boil in a pan and add the dry fruits (leave out the tutti frutti if using them) and the sugar.
Simmer for about 7-10 mins until the dates have softened ,yet don't turn mushy.
Turn off heat, remove the pan and set aside for 5 mins to cool slightly.
Then, add the butter, vanilla (or citrus zest) and baking soda. The mixture will foam a bit, that's normal and fine.
Set aside to cool.
In another bowl, sift together the flour, baking powder, and salt.
Add the spice powders and mix well to combine.
To this, add the cashew nuts and tutti frutti, if using. You can also add some chopped glazed cherries at this stage if you'd like
Add the cooled fruit mixture to the flour mixture and add the oil.
Gently fold until the batter has no flour streaks left in in it.
Pour into the prepared cake pan and bake in the pre-heated oven for about 50 mins.
If the top seems to be cooking too quickly, loosely cover the cake tray with aluminium foil and leave a slit in the middle for air to escape.
Let cool in the pan for 15 minutes before transferring to a cooling rack.
Cool completely before slicing and store in airtight containers.
Recipe by
Edible Garden
at https://www.cookingandme.com/2012/12/31/eggless-plum-cake-eggless-fruit-cake/