10-Min Cheese Garlic Bread Recipe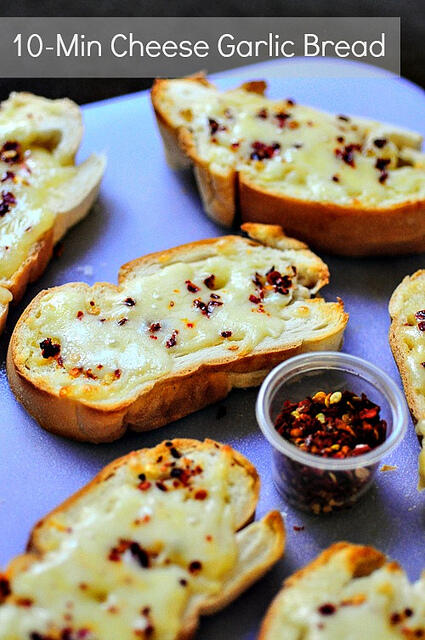 1 baguette (mine was about 1 feet long)
4 tbsp of butter, softened to room temperature
½ tsp of salt (if using unsalted butter)
2.5 cups of grated mozzarella + cheddar
3 tbsp of chilli flakes
6-8 cloves of garlic, minced (I finally put my garlic press to good use)
Pre-heat your oven to 300F / 180C.
Slice the baguette into ¾" thick pieces. You can go thicker or thinner as you like, I like it neither here nor there. I am grey (I didn't mean to rhyme, sorry).
Mix the minced garlic and butter along with salt if you are using unsalted butter. On that note, I used Amul salted butter and it was delicious, but we all know that already. Slather a good layer of butter on one side of the bread pieces evenly.
Add the grated cheese on top and garnish with chilli flakes. You can be as generous as you want but don't even think about being skimpy. Skimpy and cheese don't go well together. Since I was serving pizza next, I went a bit easy on the cheese for the garlic bread, but note how I didn't just make plain garlic bread, I had to add some cheese!
Bake in the pre-heated oven for about 5-6 mins until the edges of the bread slices turn crisp and the cheese melts. Don't let it sit in there too much even thought you are tempted because if you over-bake them, they turn out like rusk when slightly cool.
You can use a baking tray but I didn't have any spares since I was using them for the pizza so I directly put them on the (clean!) oven racks.
And we are done! Hot, spicy, cheesy garlic bread is ready in 10 mins!
Recipe by
Edible Garden
at https://www.cookingandme.com/2013/01/23/easy-cheese-garlic-bread-recipe/