Walnut Basil Pesto Recipe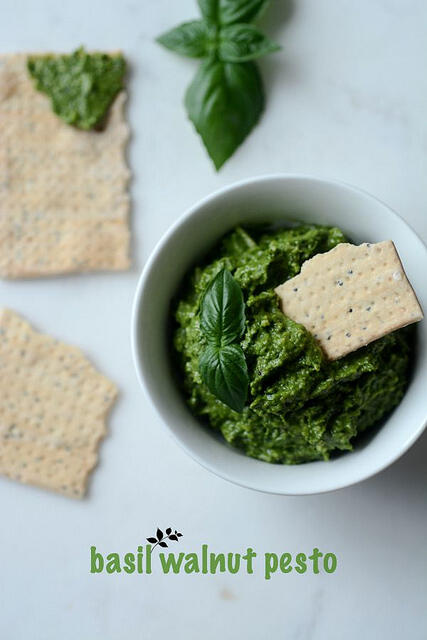 5 cups of fresh basil leaves, packed
½ cup of olive oil
½ cup of grated parmesan cheese
1 tsp of crushed garlic
1 tsp of freshly cracked black pepper (adjust to taste)
½ cup of walnuts
Salt to taste
Wash the basil leaves and set aside
In a food processor or mixer, coarsely grind the walnuts. You can lightly toast them on a dry skillet before toasting. This enhances the flavour but is an optional step.
To the same grinder or processor bowl, add the rest of the ingredients except cheese and pepper. Start with ¼ cup oil and add more as needed to make the mixture grind together well.
Grind to a smooth paste. You can leave it a bit coarse if that's the texture you prefer.
Now add the grated cheese and cracked pepper.
Give the mixer or processor just a couple of spins until the ingredients are well blended.
You can test salt at this stage and add more or less as needed.
Recipe by
Edible Garden
at https://www.cookingandme.com/2015/09/20/walnut-basil-pesto-recipe-how-to-make/