Pressure Cooker Eggless Sponge Cake Recipe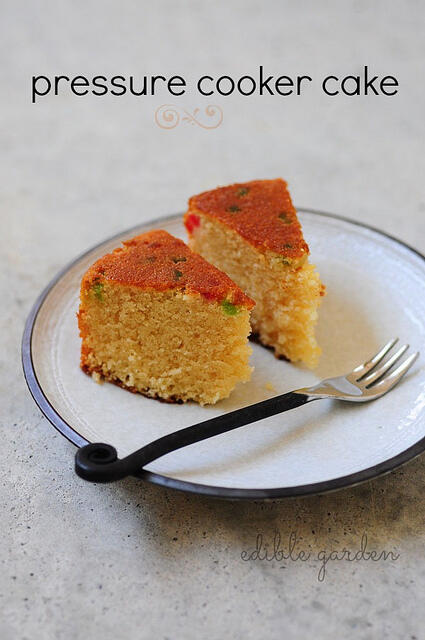 1 cup + 2 tbsp plain flour or maida
½ cup powdered sugar (measure after powdering)
1 cup milk powder
1 cup milk
¾ cup unsalted butter, at room temperature
1 tsp vanilla essence or extract
½ tsp salt
½ cup tutti frutti (or any chopped nuts or chocolate chips), optional
Sift the flour and salt together in a bowl.
In another bowl, Cream the butter, powdered sugar, and milk powder together
Add milk and vanilla to the creamed mixture and mix until well combined
Add the flour mixture in 2 additions to the above and keep whisking gently until no traces of flour remain.
Finally, add the tutti frutti and fold in gently
Pour into a greased 8" cake pan and lightly tap on the kitchen counter to remove any air bubbles.
Following instructions here on how to bake cake in pressure cooker, bake the cake for about an hour. You can check after 45 mins to see if it's done. Mine took about an hour to be done. You can test with a toothpick or skewer to make sure the cake is cooked through.
Let the cake sit in the pan for about 10 mins and gently invert it on a plate or wire rack
Cool completely, slice, and serve!
Recipe by
Edible Garden
at https://www.cookingandme.com/2013/06/04/pressure-cooker-eggless-sponge-cake/