Easy Vegetable Biryani Recipe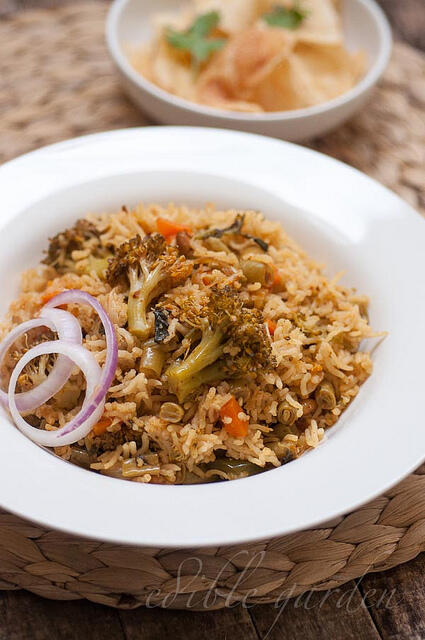 1 cup of basmati or any long-grained rice
2 cups of mixed vegetables, chopped (I use what I have in hand - broccoli, carrots, beans, cauliflower, peas, corn, baby corn, capsicum, etc)
2 tsp of biryani masala (or 3 cloves, 3 cardamom, 1" piece cinnamon, 1 star anise)
1 fistful of mint leaves
1 small bunch of coriander leaves (cilantro)
½ tsp of turmeric powder
½ tsp of cumin seeds
1 tsp of coriander powder
2-3 green chillies, minced
1 tsp of red chilli powde (adjust to taste)
2 large onions, sliced
½ cup of curd (optional)
1 tbsp of ghee
A few cashew nuts or almonds (optional)
1 tsp of ginger garlic paste
Wash the rice and and soak it in some water while you go about with the rest of the preparations.
Heat the ghee in a wide pan and roast the nuts (if using) Drain and add the sliced onions and roast until golden brown. Set aside half of it and add ginger garlic paste. Saute until fragrant.
Next, add the green chillies, chilli powder, turmeric, coriander powder, cumin, and some salt. Saute until the spices are roasted - about 1 minute.
Top off with the chopped vegetables and mix well. Add the biryani masala and the chopped mint and coriander leaves (see notes on how to use whole spices).
Transfer this to your rice cooker pan and add about 2 cups water and the curd - the measurements will vary according to rice cooker used - and the soaked rice. (See notes for pressure cooker biryani method)
, When the rice is done, open immediately and give it a good stir-through when still hot. Add the reserved roasted nuts and onions. Garnish with more coriander leaves and sprinkle some lemon juice if desired.
Serve with papad or chips and a nice cooling raita.
Recipe by
Edible Garden
at https://www.cookingandme.com/2013/06/17/vegetable-biryani-veg-biryani-recipe/