Pulissery recipe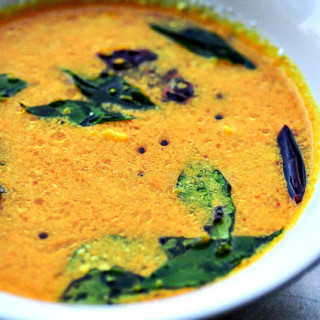 Recipe type:
Vegetarian Sides
⅓ cup of peeled, washed, and cubed taro (chembu)
½ cup of yogurt or plain curd (the more sour it is, the better)
½ cup of fresh or frozen coconut
½ tsp of cumin seeds (jeerakam)
1 shallot (ulli, chinna vengayam)
½ tsp of red chilli powder
¼ tsp of turmeric powder
1 tsp of coconut oil
½ tsp of black mustard seeds
4-5 grains of fenugreek seeds or uluva (optional)
1 red chilli, torn into pieces
A few curry leaves
Cook the taro in about 1 cup water until soft.
Meanwhile, grind the coconut+cumin+shallot+turmeric+chilli powder to a smooth paste adding water
When the taro has cooked (check if it breaks apart easily when you press with the back of a spoon or your fingertips), add the ground coconut paste to it and simmer for 3-4 mins.
Meanwhile, beat the curd with ½ cup water until smooth. When the taro-coconut mixture has simmered for about 4 mins, turn off flame and add the beaten curd. Mix well.
Heat oil in a small pan for tempering. Add the mustard seeds, fenugreek seeds (if using), red chillies, and curry leaves.
When the mustard seeds pop, add the tempered ingredients to the curry. Mix well, add salt, and keep closed for the flavours to mingle until serving time.