Avial recipe Kerala-style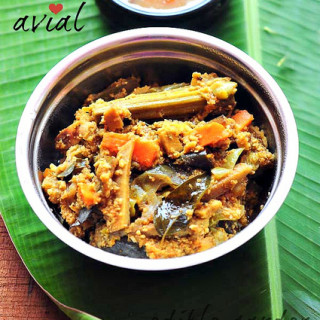 Recipe type:
Vegetarian Sides
½ cup of carrots strips
½ cup of snake gourd strips
½ cup of brinjal strips
½ cup of raw banana strips
½ cup of jackfruit seeds, quartered lengthwise
½ cup of elephant yam strips
½ cup of old cucumber strips
6 3" long drumstick pieces
½ cup of raw mango strips
2 cups of grated coconut
1 tsp of powdered jeera (cumin, jeerakam)
1 tsp of red chilli powder
2-3 green chillies
½ tsp of turmeric powder
2 tbsp of coconut oil
A few curry leaves
Add all the cut vegetables except mangoes to a large cooking pot (we use the traditional kal chatti or stone pot to make avial at home).
Top off with half the turmeric powder, cumin, curry leaves, and chilli powder.
Add about ½ to ¾ cup water and mix well.
Cook covered on a low flame for about 10-12 mins or until the vegetables are cooked yet hold their shape.
Take care not to cook them to a mush, I would suggest checking every 5 mins to confirm this.
Meanwhile, grind together - coconut + green chillies + remaining turmeric + some more curry leaves to a coarse paste without adding water.
Check that your vegetables are almost cooked.
They would have let out a fair amount of water while cooking and this is good.
Add the ground coconut mixture on top along with requirement amount of salt and the mango strips.
Without mixing, cook covered for another 3-4 mins.
Almost done! Mix the coconut mixture in gently and remove from heat.
The avial will be a bit watery still but it will dry up as the vegetables absorb it as they sit.
Drizzle the coconut oil on top and mix gently.
Set aside covered loosely for an hour before serving.
Recipe by
Edible Garden
at https://www.cookingandme.com/2013/09/11/avial-recipe-kerala-style-aviyal-onam/