Butter Murukku Recipe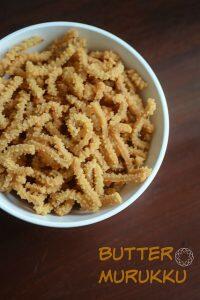 1 cup of rice flour
2 tbsp of roasted gram powder (pottukadalai powder)
2 tbsp of besan (kadalai mavu)
1 tbsp of butter, softened to room temperature
1 tsp of cumin seeds
¼ tsp of asafoetida (hing, perungaayam)
Salt to taste
Oil for deep frying
Prepare the roasted gram powder first. I powdered about ¼ cup very finely in a spice grinder and then measured out the required amount
Add the rice flour, besan, roasted gram powder, cumin seeds, hing, and salt to a wide bowl
Add butter to this mixture and use your fingertips to mix well. The resulting mixture should resemble bread crumbs but won't be too moist, which is fine
This is a good time to set a kadai or pan on heat and add enough oil to deep fry the murukku. As it heats up, you can prepare the dough for murukku
Add water a little at a time to the murukku mixture and make a dough that's moist and holds its shape when punched. Poke a finger into it and the dough should dent easily without cracking or breaking
Take your murukku press and add the right disc to it for butter murukku. The star-shaped ones are perfect, same disc we use for mullu murukku
Take a good amount of the dough and make a long log shape out of it
Insert into the murukku press and check that the oil is ready by adding a small amount of dough to the hot oil. If it sizzles up immediately, the oil is ready
Press the murukku directly into the hot oil. The dough should be relatively easy to press through and will break into smaller pieces automatically as you press over the oil
Keeping flame medium-high, gently turn the murukku pieces until so that they are uniformly cooked
The sizzle of the oil will subside and the murukku pieces will also shrink in size as the moisture leaves the dough
When golden brown, drain and remove into a plate or bowl lined with paper towels.