Tutti Frutti Christmas Cake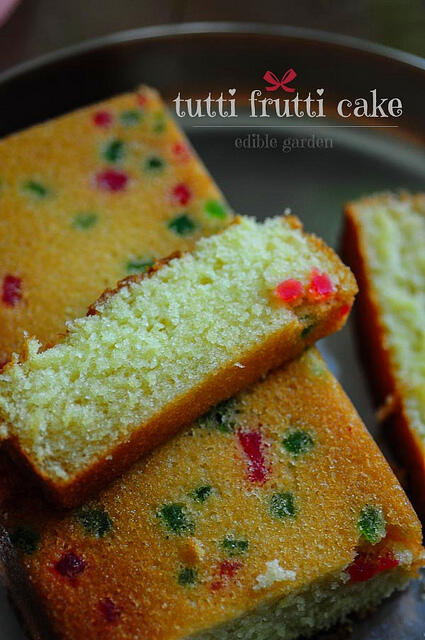 1 cup of plain flour (maida)
⅔ cup of sugar
½ tsp of baking powder
½ tsp of baking soda
1 egg
½ cup of buttermilk (see notes)
¼ cup of butter, softened
½ tsp of vanilla extract
⅓ cup of tutti frutti
A pinch of salt
Set oven to 400F/200C for pre-heating. Grease an 8" pan with butter.
In a large bowl, whisk together the flour, sugar, salt, baking powder, and baking soda.
To this, add the egg, vanilla, buttermilk, and butter.
Using an electric beater, beat this mixture on low speed for 1 minute. Scrape down the sides and beat again on medium speed for 1 more minute.
If your mixer only has one speed, that's ok. Just use that. Using an electric mixer will give you best results in this recipe than using a whisk and doing it by hand. The mixture needs good aeration so getting some machine into the process helps.
Pour batter into your prepared pan.
Sprinkle the tutti frutti or whatever fruits/nuts you are using, on top evenly.
Bake for 25-30 mins until the top turns golden brown and a skewer inserted into the cake comes out with moist crumbs.
Let the cake cool completely before slicing and serving.
Recipe by
Edible Garden
at https://www.cookingandme.com/2013/12/11/buttermilk-tutti-frutti-christmas-cake-recipe/