Homemade Chocolate Ice Cream Recipe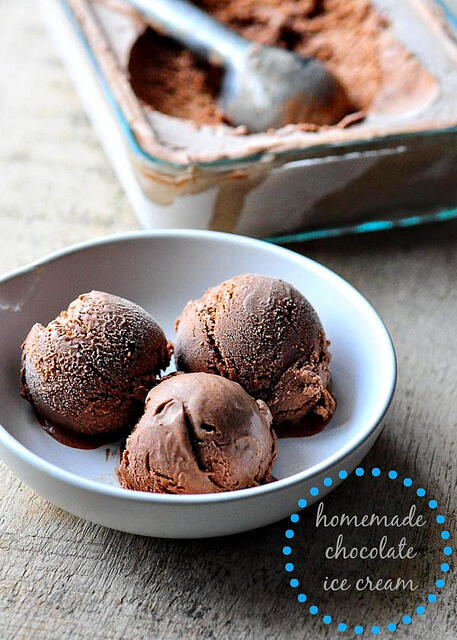 ½ cup of unsweetened cocoa powder
½ cup of sugar
¼ cup of firmly packed brown sugar
¾ cup of full cream milk
1.5 cups of cream with at least 35% fat content
1.5 tsp of vanilla extract
A small pinch of salt
Whisk together cocoa and both sugars until thoroughly combined.
Add the milk to this, gently incorporate by hand, and then continue whisking either manually (2-3 mins) or with an electric mixer (30 seconds).
Time to add the cream. Now, there's generally some confusion on what type of cream to use for homemade ice cream. I'd say it really doesn't matter as long as your cream has at least 35% fat content. This is what makes the ice cream rich, creamy, and delicious.
Pour in the cream, vanilla and add a pinch of salt.
Mix again until full incorporated.
Pour this mixture into the bowl of your ice cream maker and churn for 20 mins, approximately.
The mixture should turn into soft serve ice cream like below. You can serve it at this stage or freeze for a harder more ice-cream-like consistency.
I always use my Pyrex storage bowls for freezing ice cream, especially since they come with a lid. Use either a glass or plastic container, and freeze for at least 8 hours.
Done!
Recipe by
Edible Garden
at https://www.cookingandme.com/2014/01/01/homemade-chocolate-ice-cream-recipe/