Dosa batter with urad flour & rice flour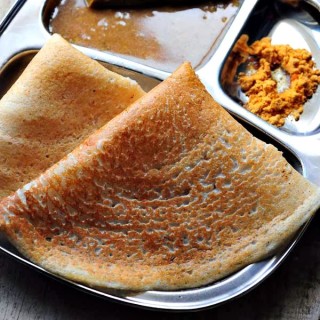 1 cup unroasted urad flour
3 cups rice flour
1.5 tsp of salt (adjust to taste)
3-4 tsp of sesame oil (gingelly oil) for cooking the dosa
Mix the urad dal flour, rice flour and salt in a bowl.
Add enough water in small additions to make a thick batter. Keep mixing as you add water.
You should have a lump free thick batter. Cover with a plate and set aside in a warm place for 8 hours or overnight for fermenting.
My batter didn't rise much but was quite bubbly and airy the next day morning.
Before making the dosas, add more water to get the right consistency. The batter should be easily pourable yet on the thicker side
Shape your dosas and cook as normal, drizzling some sesame oil as you go.
Cook both sides until golden brown.
Serve hot.
Recipe by
Edible Garden
at https://www.cookingandme.com/2014/01/22/dosa-batter-with-urad-flour-rice-flour/