Cabbage Poriyal Recipe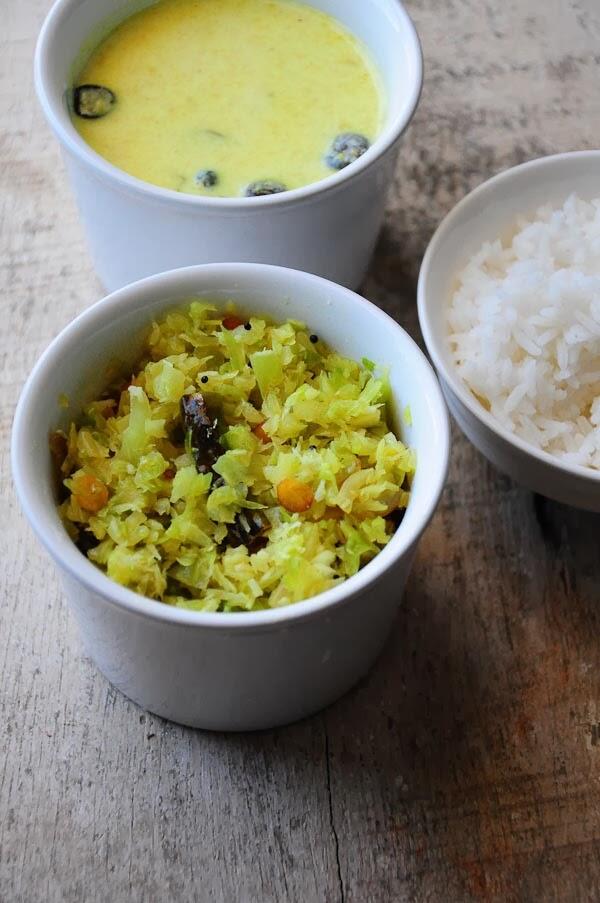 Recipe type:
Dry Vegetarian Side Dish
4 cups of cabbage, chopped fine
1 tbsp of chana dal / kadalai paruppu (soaked in warm water for 10 mins)
2 tsp of oil
½ tsp of black mustard seeds
10 curry leaves
½ tsp of cumin powder (optional)
½ cup of sliced shallots (or onions)
¼ tsp of turmeric powder
2 green chillies, sliced (I used one red chilli and one green)
¼ cup of grated coconut
Chop the cabbage and set aside.
Heat the oil in a pan and add the mustard seeds. When they pop, add the soaked chana dal and shallots/onions. Fry until the onions turn soft - about 3 mins.
Then, add the turmeric, curry leaves, red and green chillies, saute for another minute.
Add the chopped cabbage along with the cumin powder, curry leaves, and some salt. The salt helps bring out the moisture in the cabbage and allows it to cook in its own juices.
Mix well
Add about 2 tbsp water and cook covered for 7-8 mins until the cabbage is cooked but not mushy.
Give it a good stir. You can also stir once in between when it's cooking in the closed pan, just to ensure even cooking. Keep flame low and it will steam up in its own water and the little you have added. If the poriyal is too moist at this stage, just let it cook down in the open pot while being stirred now and then.
Finally add the grated coconut on top and more salt if needed. Mix well and remove from flame.
Serve warm with rice and any curry.