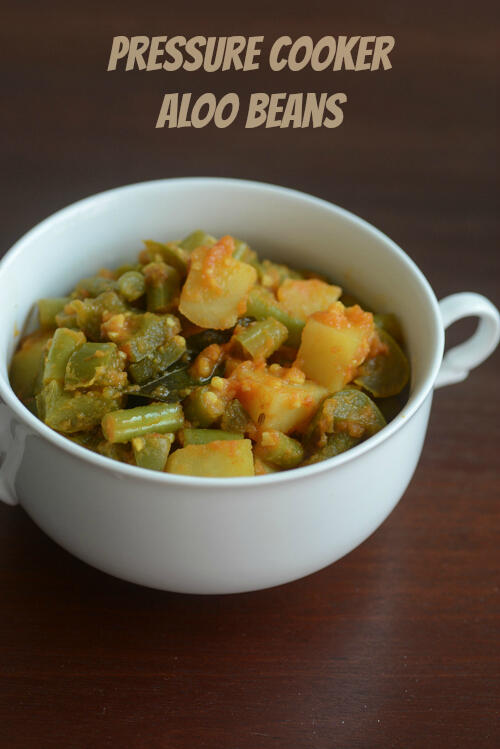 Aloo beans recipe or potato beans recipe: I'll tell you what or who this recipe is perfect for – you're not feeling very inspired on what to cook for lunch or dinner, you like/love aloo potatoes, you have some beans lying around and you just want to make a one pot recipe with it. This is an adaption of the popular cooking technique One Pot One Shot or OPOS, a term coined by RK and popularised through his Facebook group United by Food.
Making pressure cooker recipes is super simple, once you have tried a few combinations and formulae, it can be applied to pretty much any ingredients you have in hand.
I usually have a few potatoes lying around and beans are one of TH's go-to vegetables if he goes to the supermarket alone so there you have it, the glamorous story behind how my aloo beans recipe came about.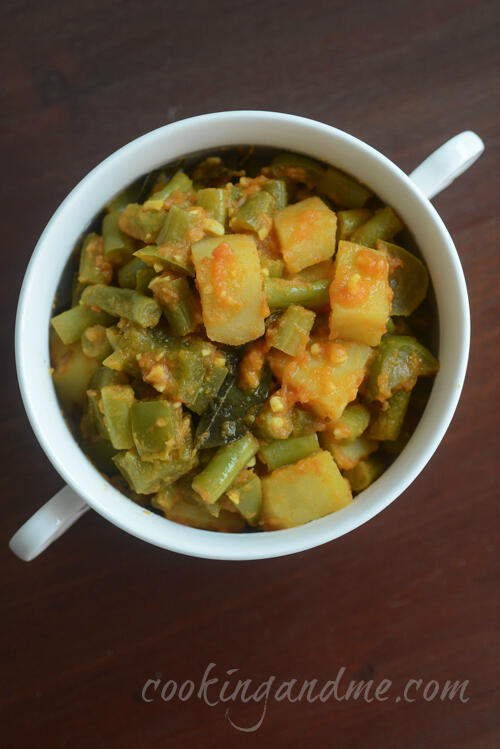 As you can tell from the picture above, I also added remnants of a green capsicum lying around in the fridge so you can really adapt and add anything else you'd like to make this recipe. To keep it semi-dry, I added no water while cooking the vegetables in the pressure cooker.
Love quick recipes for lunch or dinner? Check out:
Pudalangai masala
Aloo methi
Breadfruit thoran
Dingri Dolma (paneer and mushroom curry)
Zucchini besan sabji

Aloo Beans Recipe
Aloo beans recipe made as a one pot recipe. Pressure cooker aloo beans serves as a quick and easy side dish for rice or roti on a busy weeknight or lazy weekend.
Recipe type:
Vegetarian Sides
Ingredients
2 cups peeled and cubed potato
1 cup beans cut into 2" pieces
1 large tomato (or ¾ cup fresh tomato puree)
1 large onion (or ½ cup onion puree)
¼ cup green capsicum, cubed (optional)
2 tsp ginger garlic paste
1 tsp cumin seeds
1 tsp coriander powder
1 tsp chilli powder (adjust to taste)
¼ tsp turmeric powder
A few curry leaves (optional)
2 tsp oil
Salt to taste
Instructions
Puree the tomato and onion separately and set aside
In a pressure cooker pan (I used a 3 litre pressure cooker), place the chopped vegetables
Layer the pureed tomato and onion over this
Add all the spice powders along with the curry leaves and ginger garlic paste
Pour the oil over this and add salt
Mix well
On medium flame, pressure cook for 3 whistles or 12 minutes
When the cooker cools down, open gently, stir the curry and serve hot
Easy, right?
Step by Step One Pot Aloo Beans Recipe
Puree the tomato and set aside. I got about 1/2 cup plus a bit more of puree. The exact amount doesn't happen, you can eyeball this.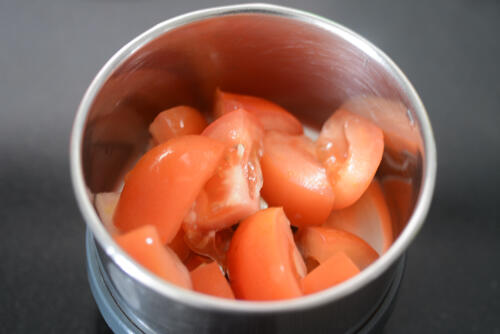 In the same mixer puree the onion. I used one large onion and got about 1/2 cup onion puree.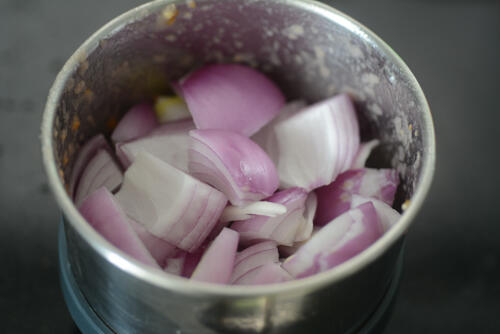 Chop your 2 cups potatoes, 1 cup beans, and 1/4 cup capsicum (optional) and add to a pressure cooker. I used a 3 litre pressure cooker. Depending on the size of yours, the cooking time will differ.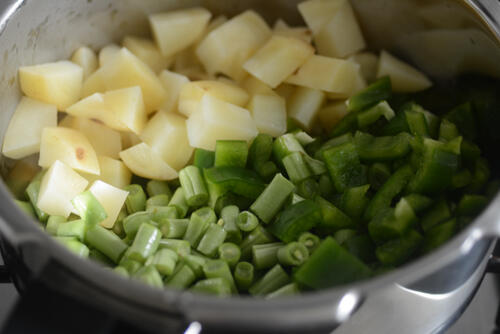 Add your tomato puree and onion puree on top of the vegetables.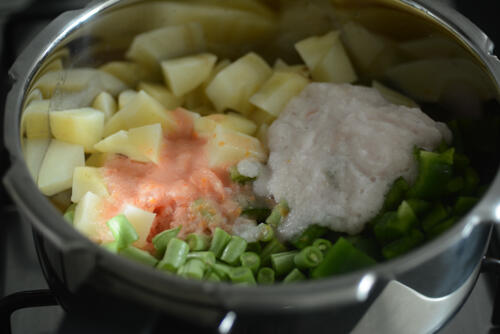 Now add 2 tsp ginger garlic paste, 1 tsp cumin seeds, 1 tsp coriander powder, 1 tsp chilli powder (adjust to taste) and 1/4 tsp turmeric powder to the above. Throw in some curry leaves and salt too.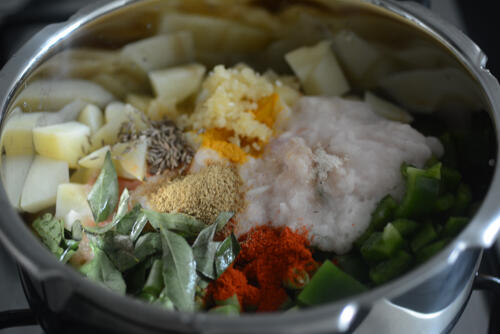 Finally, add about 2 tsp oil to the above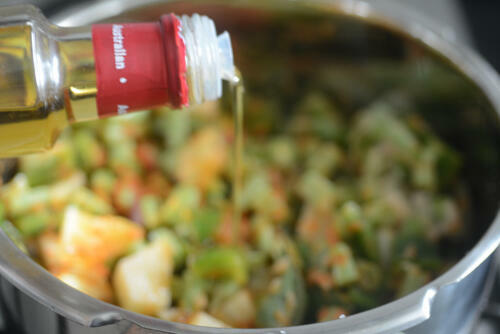 Give everything a good mix. There's no need to add any water, we are looking for a semi-dry aloo beans recipe.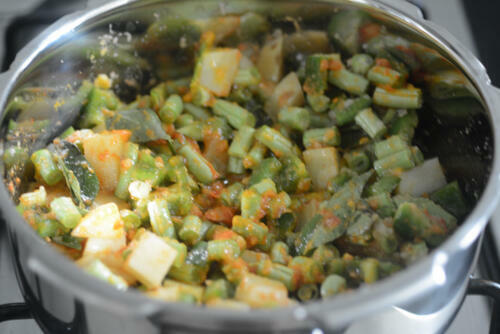 Place the lid on with the weight. Pressure cook on medium heat for 3 whistles or 12 minutes. When the pressure cooker cools down, open, gently mix, adjust salt if needed, and serve hot.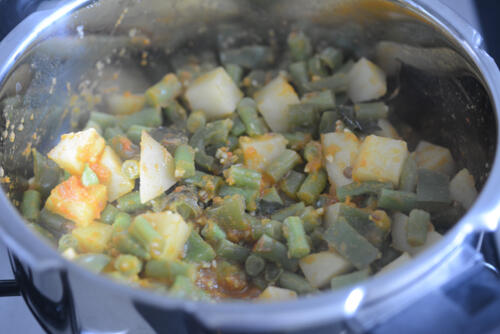 If you make this aloo beans recipe, please share a photo on Instagram or Twitter with #ediblegarden. I'd love to see it!
For aloo beans recipe in Hindi, Tamil, Telugu, Marathi, Kannada, Malayalam, etc please use the Google translate button in the sidebar.