Trifle Pudding – Learn how to make an easy trifle pudding with chocolate cake and mixed fruits. Trifle is a type of pudding which usually involves custard, fruit, cake etc and is the perfect party dessert if you are wanting to make something to feed a large group of people. Except to make the custard, there's no cooking or baking involved in preparing a trifle.

Assemble a bunch of yummy ingredients, stick in the fridge for a few hours, and you have yourself a pretty impressive dessert. You can also serve trifle in individual pots or trifle glasses which make them look very pretty and party-ready.
If you have been with 'cooking and me' for a while, you'd know I love a good no-bake dessert. When I made this pressure cooker chocolate cake, I had some cake leftover after two days and figured I should add more calories on it and serve it as a dessert to, well, myself. It was delicious you guys.
The only thing I am slightly embarrassed about is that I used a can of mixed fruits because I didn't have any fresh fruits in hand except for a banana, which I sliced and layered on top. Don't be like me, make this trifle after you've had the time to get some apples, oranges, banana and such. You can add whatever you'd like, the possibilities are endless.
Some delicious no-bake desserts I recommend: Steamed chocolate cake, Classic tiramisu, Eggless mango cheesecake 

Trifle Pudding Recipe
Trifle is an easy dessert with custard, fruits, cake, and cream, layered and refrigerated. Usually served chilled, this is a classic dessert that's very easy to prepare for a large group of people.
Ingredients
4 cups cubed chocolate cake
3 cups mixed fruits, chopped
2 tbsp chopped nuts, any kind (optional)
1 cup whipping cream
For the custard
1 cup milk
2-3 tsp custard powder
2 drops vanilla extract
1-2 tbsp sugar
For garnish
1 banana sliced
1 tsp cocoa powder
Instructions
First step is to cook the custard
Add the milk, custard powder, vanilla, and sugar in a bowl
On low heat, bring to boil, then lower flame to simmer and stir continuously until the mixture thickens
Remove from heat and set aside to cool completely
Once the custard has cooled, whip the cream until soft peaks form
Assembling the trifle
Take a wide bowl. Glass is preferable since you can see the layers through it. You can also set these in individual trifle glasses
First, layer half the cake cubes
Then add a layer of fruits
Follow this with half the custard
Top up with some cream
Now add another layer of cake and follow up with the other layers
End with the cream, then add a layer of sliced bananas and sprinkle the cocoa powder
Refrigerate for 3-4 hours
To serve
Scoop out servings into a glass bowl and serve chilled with more cocoa powder dusting on top
Notes
- You can use any fruits, I used a can of mixed fruits
- You can also use any type of cake to make trifle, chocolate tastes great with cherries, banana, apple, etc
- I used vanilla-flavoured custard powder
- Add more sugar to the custard if you prefer
- The cream doesn't need to get stiff, just soft peaks or until it can be scooped out and layered
Step by Step Pictures to Make Trifle:
Mix together the milk, custard powder, vanilla, and sugar in a bowl. Here's a tip: to prevent your custard powder from clumping up in the milk, add 3 tbsp milk to the custard powder first and once it's mixed to a paste, add the remaining ingredients. Bring to a boil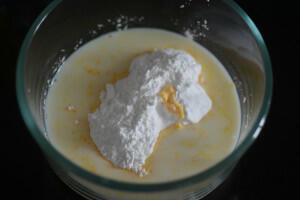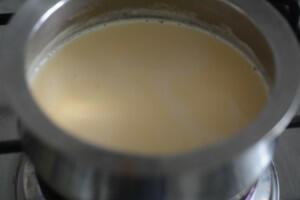 Once the custard boils, bring to a simmer and stir mixing continuously until the custard thickens. Take care while stirring, the thickening part will happen quite suddenly after about 3-5 minutes of stirring. Set the custard aside to cool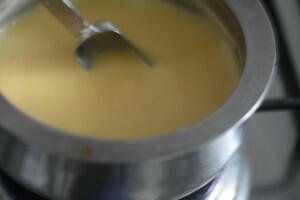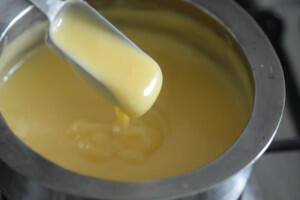 Whip the cream until soft peaks form. No need to overdo it, just a scoop-able or spread-able consistency is fine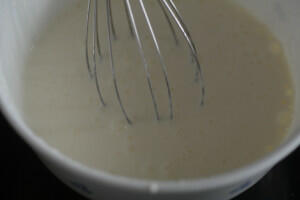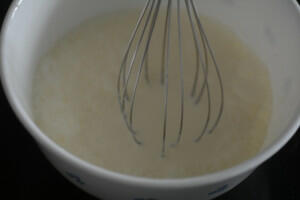 In a wide bowl, layer half the cake cubes and add some fruits over it. I have used canned mixed fruits to make this trifle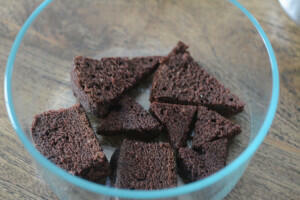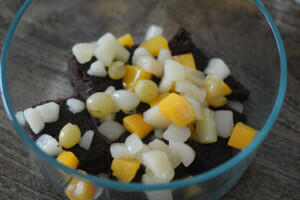 Now spread some custard over this and top up with some cream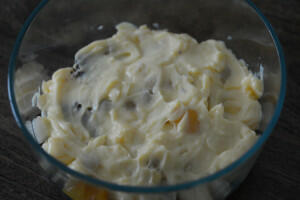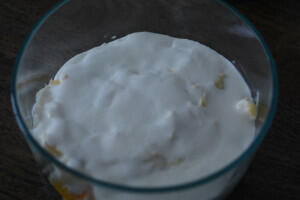 Layer the next batch of cake over the cream layer and add the remaining custard and fruits on top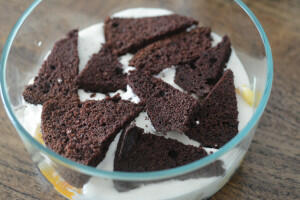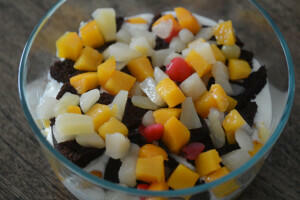 Finish off with  cream layer and add some sliced bananas. Using bananas here is optional, you can add any fruit of your choice over the trifle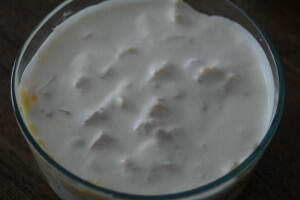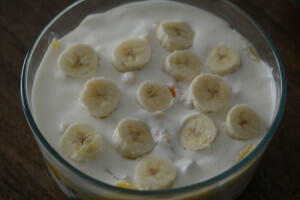 Dust some cocoa powder or drinking chocolate powder on top. This is an optional step too but adds more chocolate-y flavour to the trifle which can only be a good thing, right?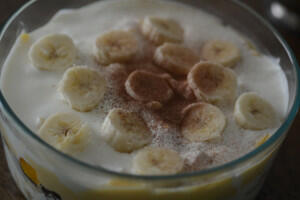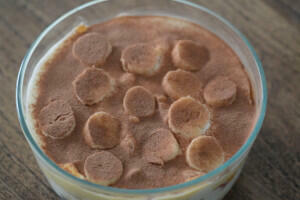 Refrigerate for 3-4 hours and serve chilled.
If you try this easy trifle recipe, do leave a comment below and let me know how it turned out.
For trifle recipe in Hindi, Tamil, Telugu, Kannada, Marathi, Urdu etc please use the Google translate button in the sidebar.